We share our hottest styling tips for your summer outdoor spaces
When deciding on how to style your outdoor spaces, it's important to start by looking at what you have to work with. Do you have a covered or uncovered patio? A small or large or oddly shaped space? A lush or bare space in need of some greening? Decide how many people you want to host and what your signature decor style is. Once you've got a clear idea of the canvas you want to paint, you can start getting creative. 
Choose the right materials
It is important to consider the materials and how they respond to their environment when selecting furniture for your outdoor spaces. Some materials change with exposure to the elements, which might be a quality that you like. Others might not be suitable for uncovered outdoor spaces at all. Here is what you need to consider:
For your covered patio, natural rattan or cane outdoor furniture is always a smart choice that, incidentally, is highly fashionable this summer. 
Our Cape Cane sofa collection can be styled in a multitude of ways. It looks equally at home in a sitting room or set out on a green lawn for a garden party, but we suggest if you do this, not to leave the ensemble out to face the elements. The sofa set will, however, last for years if you place it on a hard surface, away from direct heat, sunlight and rain. 
Another top pick for the covered patio is our sculptural range of concrete side tables, which looks equally gorgeous bare or adorned with decor ornaments or a large Nightingale lamp. High quality evergreen foliage is always a welcome addition to a covered urban outdoor space like a courtyard.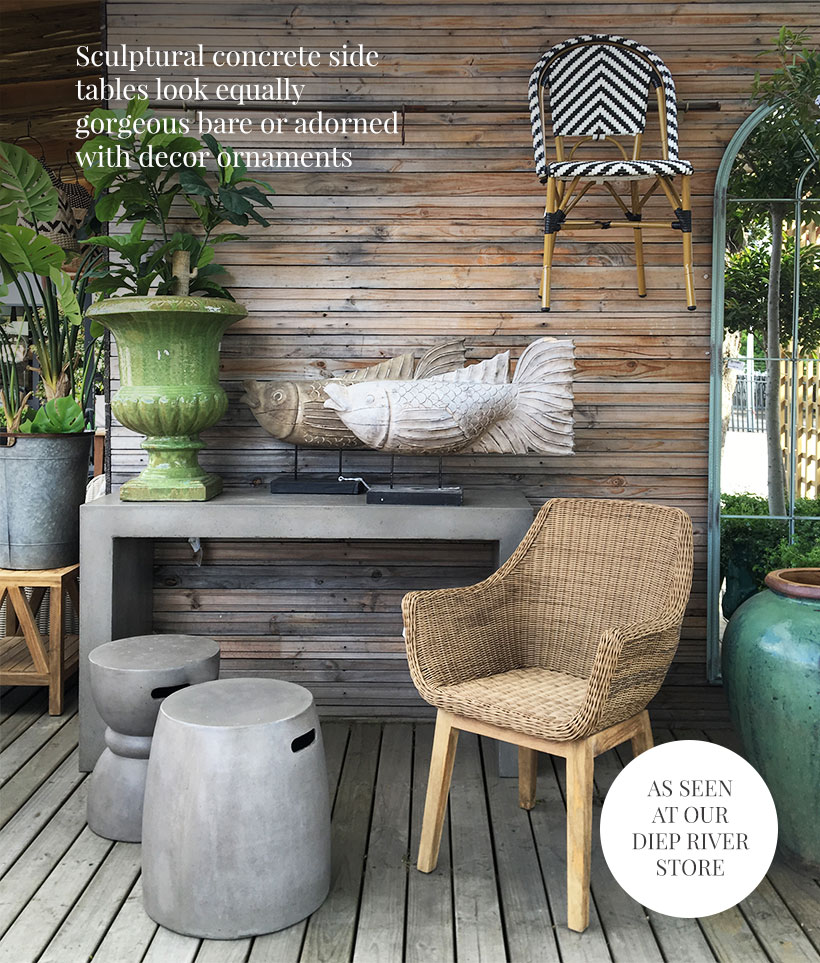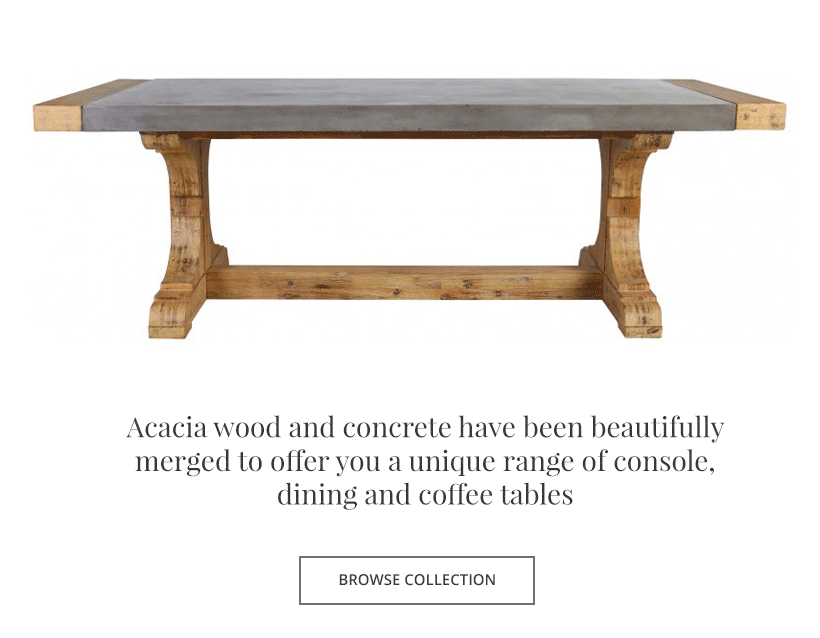 Materials like high quality synthetic rattan, reclaimed teak, concrete and UV-resistant PVC furniture are all excellent choices for your uncovered patio.
If your covered patio space is more compact, we recommend the Kubu rattan range. One or two tub chairs paired with a few easily movable footstools and a set of Maggie compact nesting tables, and you're ready to invite in the guests! 
Our sturdy Java Sofas which come in one, two and three seater versions, are a Block&Chisel favourite with their rustic, weather-resistant frames and comfy sun-proof cushions. 
If you're looking for a solid surface to display drinks, snacks and candlelight on top of, the strikingly minimalist Kesia concrete console in various sizes will do well as a permanent fixture in the garden - or even as a statement piece by the pool that you can dress up with towels and cocktails.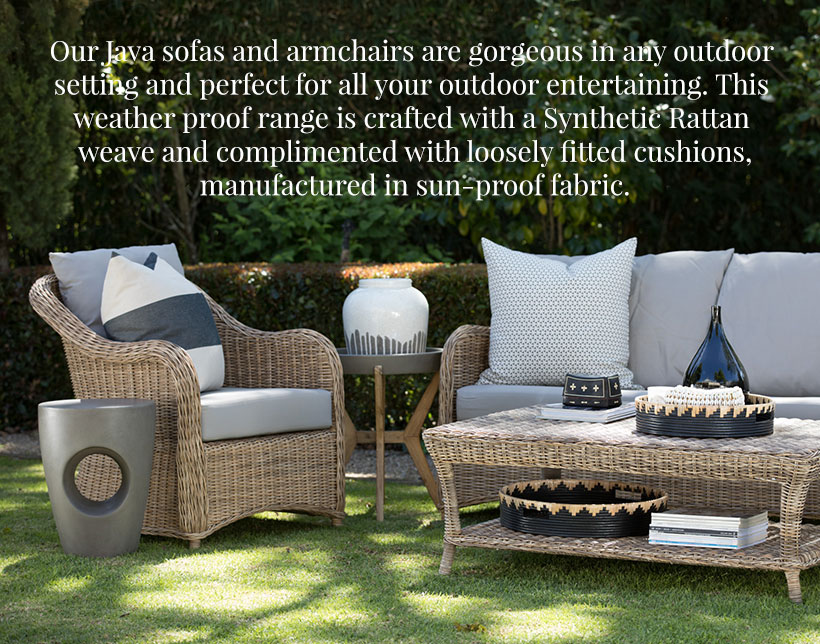 Both treated and untreated teak and UV-resistant PVC furniture are excellent choices for the outdoors. There natural and synthetic materials pair exceptionally well to offer you a contemporary outdoor look.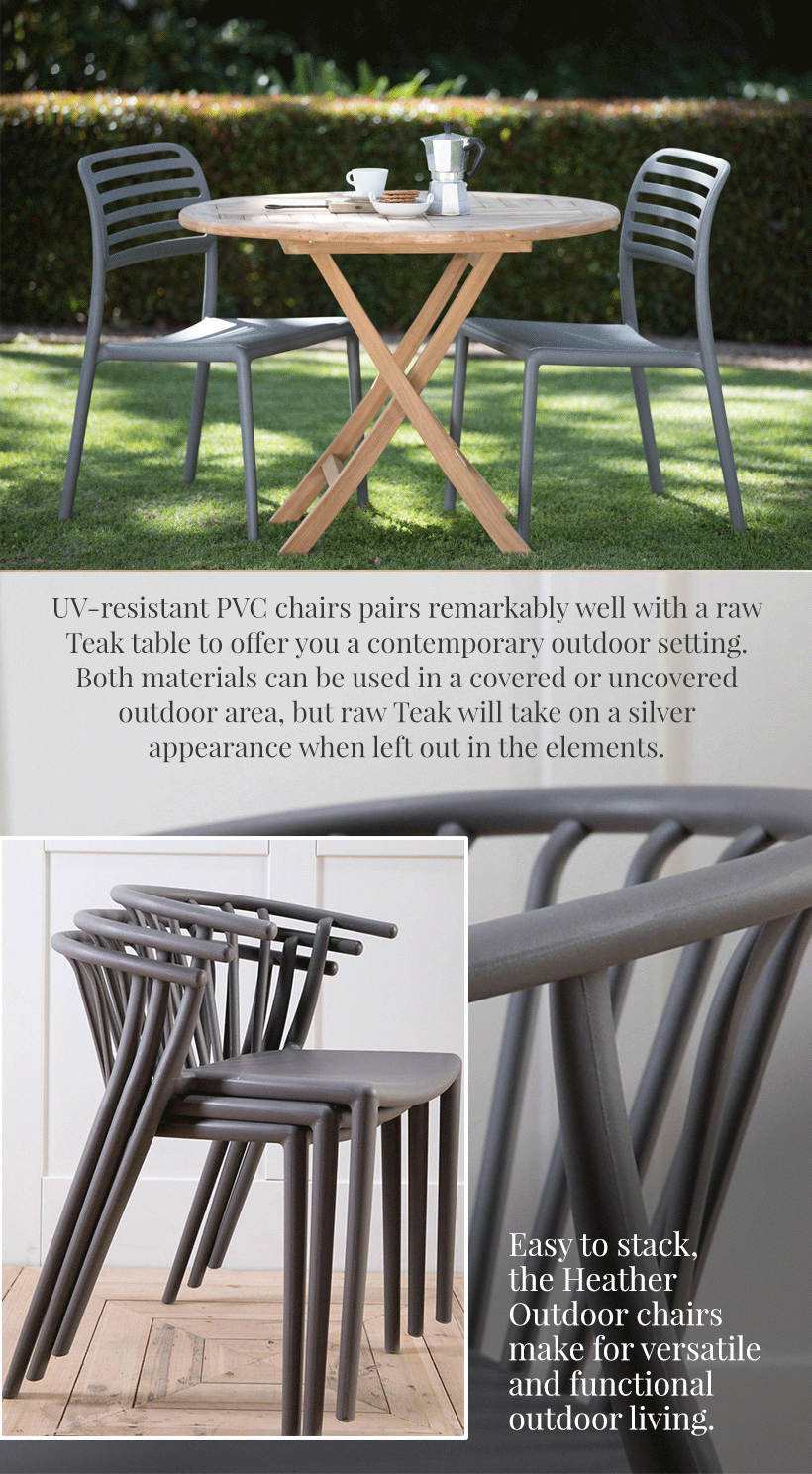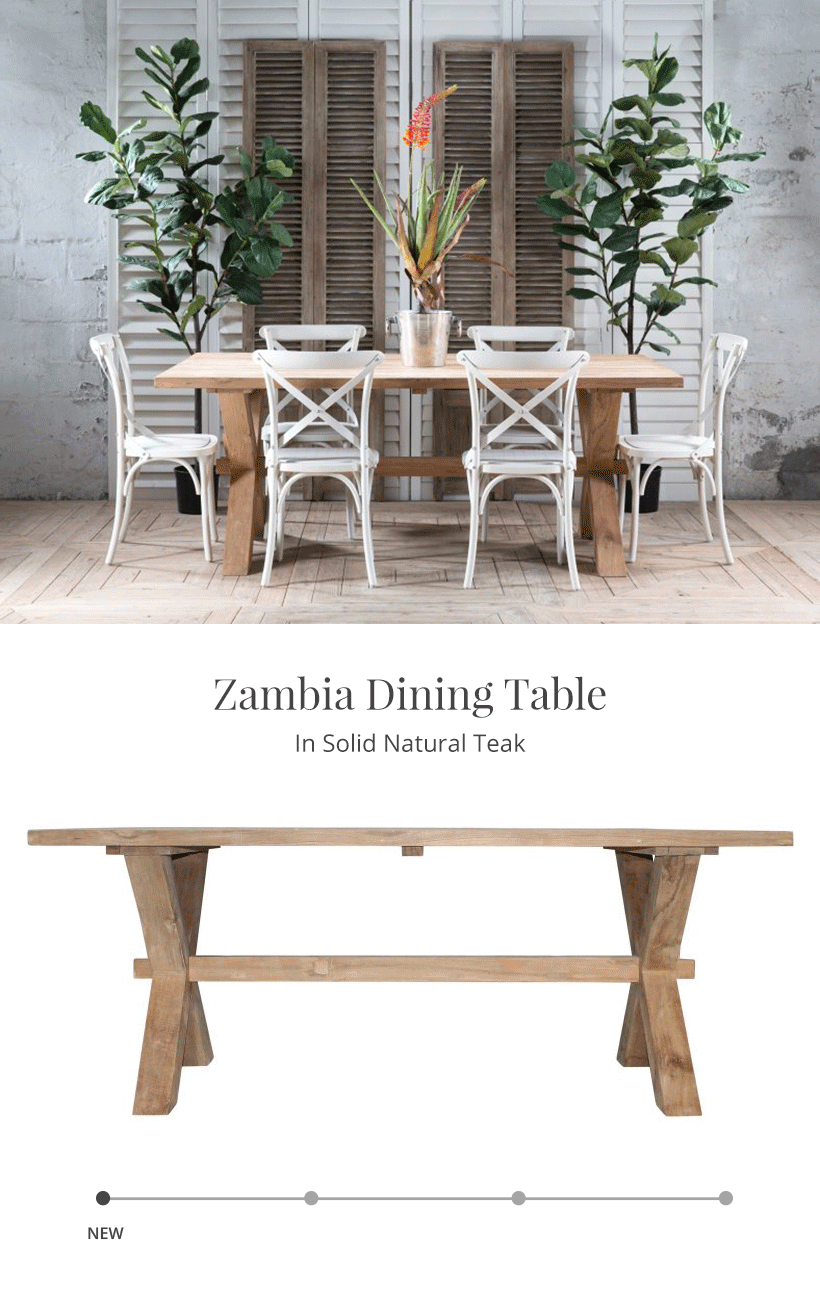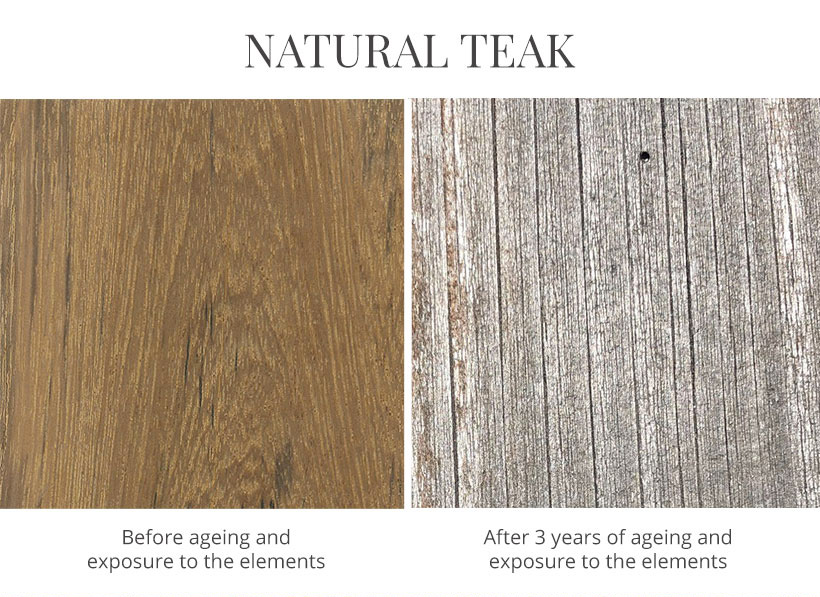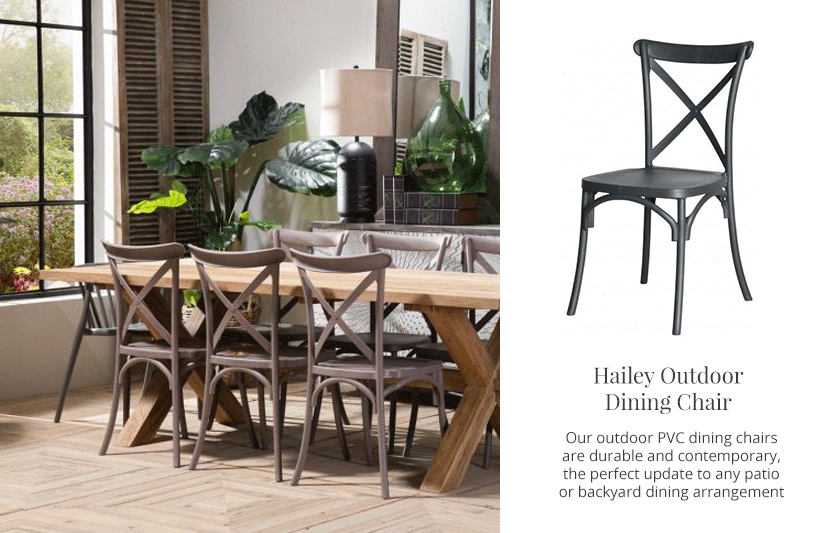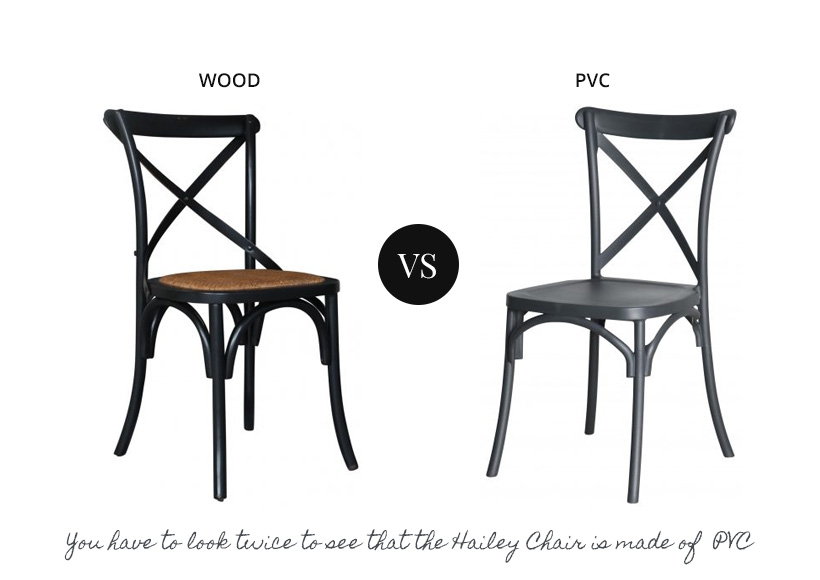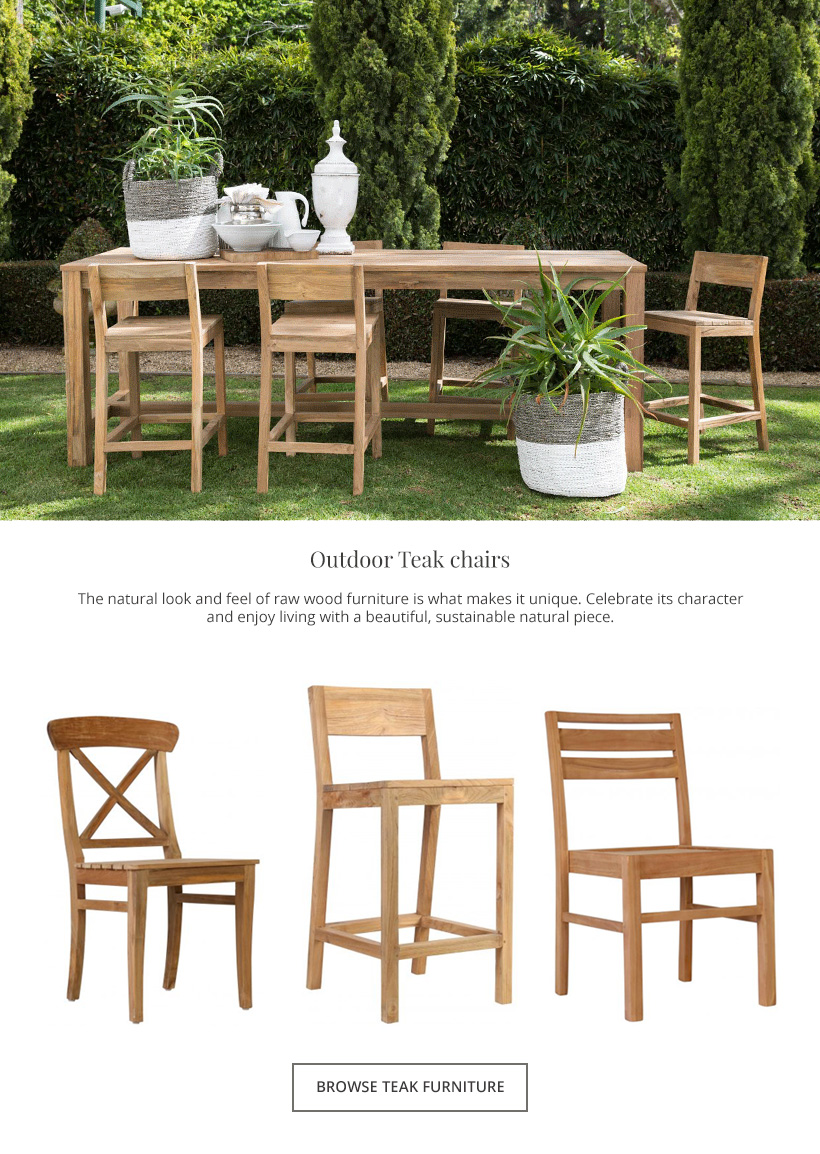 Just be sure to follow our care and maintenance instructions on how to keep your outdoor pieces looking their best. 
Play with colour and texture
Curate a beautiful scene by adding various colours and textures to your outdoor space. Browse our ever changing range of plump scatter cushions, rugs and hanging lamps in store. 

Turn your patio into a lush conservatory
Create a feast of flora for the eye by adding an abundance of water-wise and lush faux (or real) foliage to your patio. Curate a beautiful scene with a collection of gorgeous Anduze terracotta pots in various shapes, colours, glazes and sizes, filled with an array of greenery. Don't be afraid to indulge in a variety of plants in different sizes.