Find wonderful inspiration and tips on how to create a decor vignette using a well-chosen tray and a selection of craft gin to add character to your interiors.
 A vignette is a way to tell a small story using objects you cherish, arranged stylishly together. It's an essential part of masterful decorating, and what better way to tell that story than through the display of your craft gin collection?
We joined forces with local experts The Gin Box South Africa, to bring you examples of how to arrange your gin tray. The results speak for themselves, offering wonderful inspiration for your own home.
Go for the A-shape
A traditional vignette will be in the shape of an "A", using the tallest object in the middle, flanked by a few shorter objects to form a rudimentary "A" shape in silhouette. However, you needn't keep to this rule too strictly, as you will likely be incorporating your gin tray into the rest of your decor, where it will be part of a larger vignette on a table.

Echo colours 
Complement the dominant colour in the room using items on the tray - an interesting vase, a small decor accessory, an ice bucket and a few glasses, are all good examples.

Bring in texture
Vary the texture of objects to fill the space interestingly. From ceramics to metallics, woods and everything in between, adding texture is about having fun and seeing what is most pleasing to your eye.
Next, find the perfect spot. This might be atop a console, sideboard or table. We recommend adding your gin tray to a larger vignette on a table in your lounge or on your bar.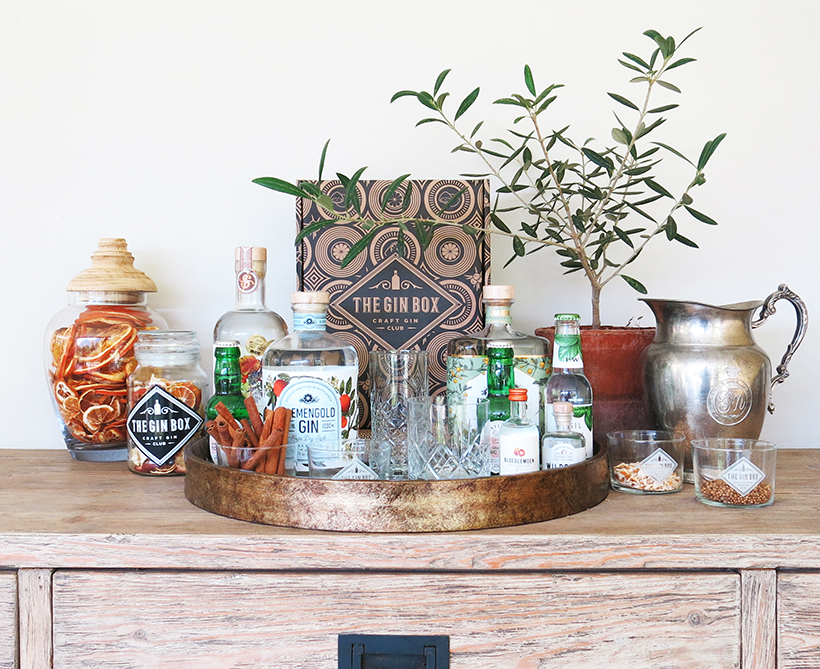 Love what you see?
Share a photograph of your own gin tray on Facebook or Instagram, @BlockandChisel and @TheGinBox and use the hashtag #mygintray. Competition closes 31 March. 

---
More tray varieties available at Block & Chisel