Block & Chisel partners with Cape Town youth and skills development organisation Ikamva Ubomi to create workable spaces for those in need of a better future.
Ikamva Ubomi translates to "future life" which founder Eugene Walker says encapsulates what the organisation is truly about: encouraging community members to invest in each other and their infrastructure for a better future for all.  
Good infrastructure inspires communities to come together to do good - Eugene Walker, Founder Ikamva Ubomi
Eugene first began his work because he saw a need to bring surrounding communities together to solve problems around schooling, skills development and infrastructure. Working with each other to solve problems is what he believes will create better circumstances for all and help to fight the social ills and various hardships they are faced with on a daily basis.
"People need access to resources - I'm the guy that makes that happen," says Eugene. He believes that good infrastructure inspires communities to come together and empowers them to make a positive and lasting impact.  
That's why the recent launch of the Bishop Lavis High School library is such a significant one. It has seen Grade 11 learners from the school get involved with the building of the library - the aim being to equip them with lasting skills which they can pass on to others.
"We definitely need safe spaces in our communities to access resources to impact the future of our country," explains Eugene. Working with companies such as Block & Chisel which provides necessary equipment, tools and funding, Ikamva Ubomi has driven the creation of several safe spaces in which community members can thrive.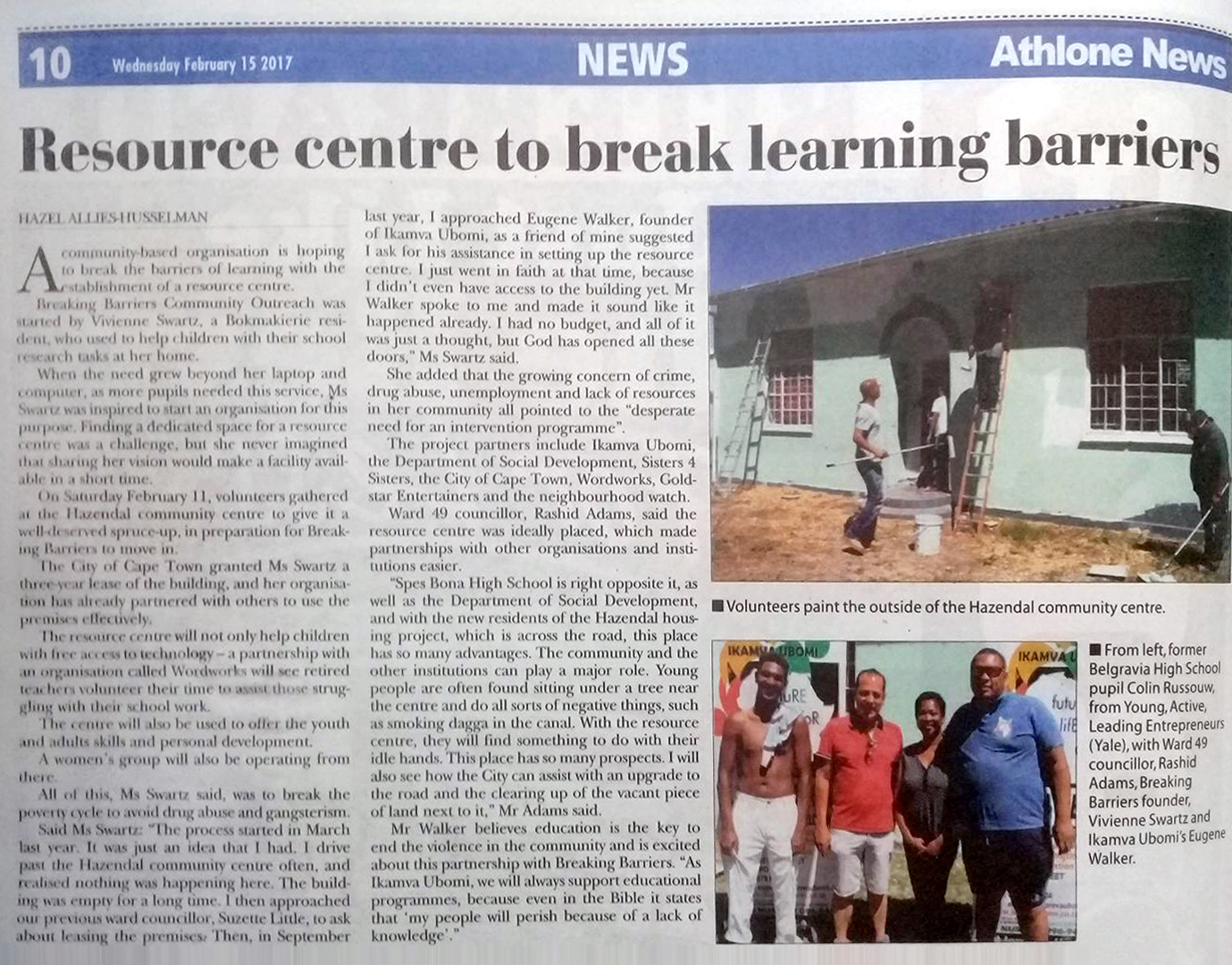 "We want to see our communities go from strength to strength, and we want to be a part of making that happen," Block & Chisel MD Paul McAdam. 
Not only does Ikamva Ubomi provide funding for community projects, Eugene is adamant that setting up such projects requires the involvement of those community members that would benefit from it. He is most interested in getting youth involved and helping them to learn new skills, such as how to refurbish computers.
High school kids can come along to the Ikamva Ubomi resource centre in Athlone every week to learn these skills. They also spend time researching on the internet using these same computers they have refurbished while supervised by Eugene and his team to build up their computer literacy and research skills.
Block & Chisel's ongoing involvement with Ikamva Ubomi demonstrates that it is essential for businesses to get involved with their communities. The organisation's various projects require a range of assistance, be it financial, physical labour, the donation of computer parts or furniture.
The philosophy of community is perfectly summed up by Eugene: "By helping others, you are helping yourself."
You can get involved too by contacting Eugene directly at eugene@ikamvaubomi.co.za or 079 631 4224 and visiting www.ikamvaubomi.co.za. Follow the Ikamva Ubomi Facebook page for updates on latest projects.