Your lighting should never be an afterthought. Give it the attention it deserves and reap the decor rewards.
"Lighting is everything.

It creates atmosphere, drama, and intrigue in a room." - Martyn Lawrence Bullard
The lighting in your home is more than a functional element. It's also a vital part of your decor, helping to enhance and illuminate various features in your interior, as well as create the ideal ambience. Use your lighting well and it will intensify colour, texture, space and mood in a room.
Good lighting isn't necessarily a standout feature, but each room does require a mix of lighting sources to achieve both your functional and decor requirements.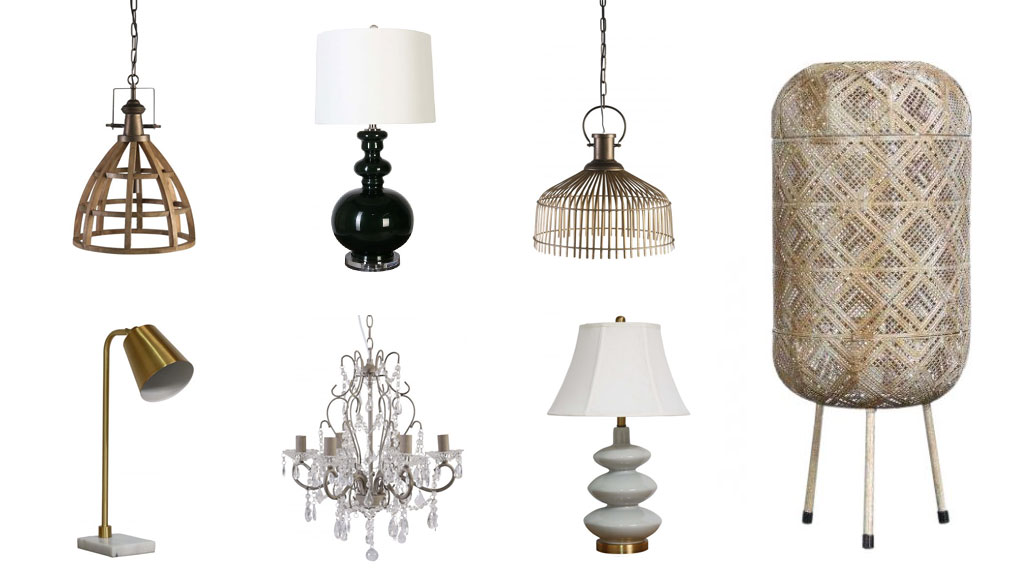 From top left clockwise: Matilde Chandelier, Libre Lamp, Limburg Chandelier, Farah Standing Lamp, Kenzo Lamp, Somme Chandelier, Diego Desk Lamp
Consider these three types of lighting for each room:
Ambient such as downlights that give general illumination.
Task illuminates in a specific area, such as a desk lamp, or over a kitchen counter, such as a pendant spotlight.
Accent lamps, pendants and spotlights that contribute towards the style of a room, while also providing mood lighting.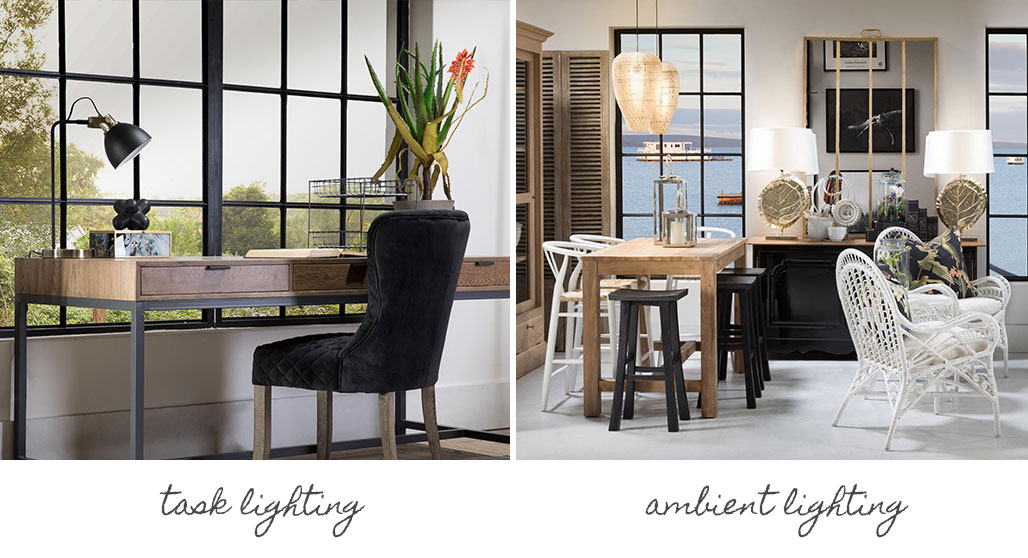 Get the right combination of these three types of lighting with these tips:
Consider a room's function
Ask yourself what activities take place in that room and organise your lighting accordingly. For example, your living room will require downlights that give it a general glow.
To draw attention to an area of the room, as well as to lift any lighting dead spots, use a standing lamp or table lamp. If you have an armchair that serves as a reading chair, add a desk lamp to offer good illumination: your task light. A kitchen will need general lighting, but may also need more specific lighting focused over your task areas, such as your hob and cutting surface.
Add a dimmer switch
Manage a room's lighting levels by adding a dimmer switch to your ambient lighting. That way you can ensure the room has the right softness and tone for your intended purpose right from the start.
Go with a warm glow
Where possible, opt for bulbs that leave your room awash with warmer light. Bulbs that are advertised as white light tend to give a colder, artificial light that can be quite harsh. These are more often used for task lighting. If you need more light, rather go for a warm bulb that offers higher lumens as this will give you brighter, but more natural light. Where possible, choose LED bulbs to conserve electricity usage. LED also lasts far longer than traditional incandescent technology, making it a smart long term buy.
Get creative
As long as you understand how the basic three types of lighting work best in a room, you can get creative. For example, bedside lighting needn't be dowdy old lamps that sit on your bedside table, but hanging pendants; task light that doubles up as an accent light.