To set the scene for summer, we've collaborated with talented interior designer Lauren McCreath to show us how she would style the ultimate outdoor entertainment spaces for the festive season. Here Lauren shares her five top tips on how to style your outdoor spaces like a pro, using her favourite Block & Chisel pieces.
Tip 1: Create a welcoming space 
Find a space where you can set up your outdoor entertainment area. It might not be the obvious choice, but a forgotten corner of the deck can come back to life, or an underutilised section of your backyard, with steps, stones or logs can turn into a lovely casual social space, if you dress it up with the right elements to create comfortable seating.

Tip 2: Set out some comfortable seating
I love using throws and cushions for comfy seating outside, with a fire roaring in the background. Throws are also ideal for chilly evenings to keep guests warm. A rugged outdoor space can become a comfortable nook if you dress it with an eclectic combination of textile, rugs or throws, topped with some puffy cushions. Block & Chisel offers many great options in store. 
I also like creating more informal seating arrangements around the dining table with throws draped over benches and cushions loosely scattered around. After dinner it's a lot more casual and relaxed - perfect to sit and enjoy each other's company.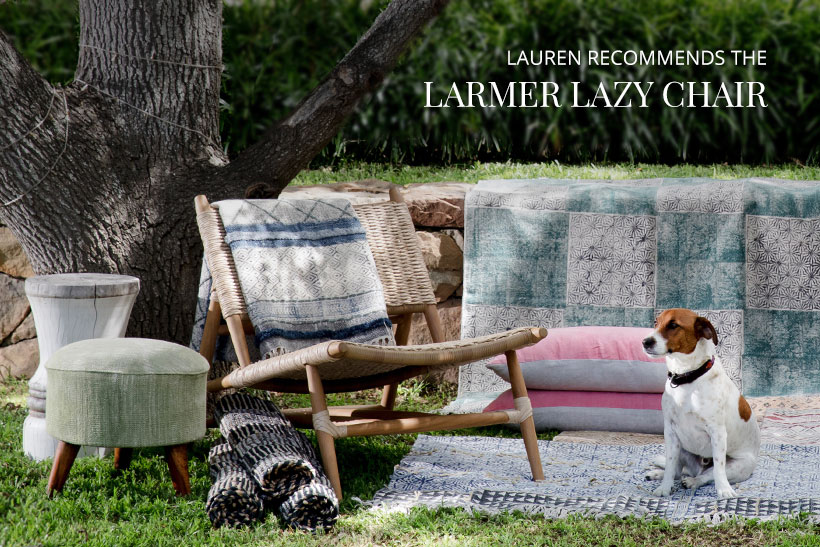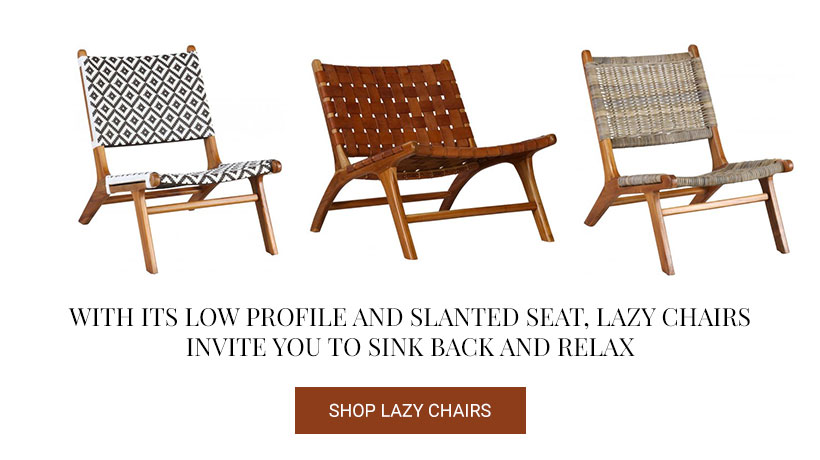 Tip 3: Style your festive table settings
I love using flowers and foliage, and decor elements that are true to South Africa, to create a beautiful festive table setting. The use of flowers is something I always do, and having Desiree from Butterfly Tree Flowers to style the perfect ones in all the Block & Chisel vessels and vases was a huge part of how the look came together.

I adore color and texture. Creating a full, textural, ambient and bountiful table with varying heights is so beautiful and interesting. Maximalism all the way! Think lovely napery, glassware and tableware - it sets the tone. 
Block & Chisel offers a wide range of eclectic and unique decor objects, beautiful trays and glassware that will pair beautifully with flowers and greenery on a feast-laden table.
Tip 4: Make versatile furniture choices
Teak is great, because it just gets better with age and has longevity. It has a beautiful straight grain and as it weathers to a lovely grey color, it really highlights this. It works well with metals such as black wrought iron, and cement. In an undercover outdoor setting, Block & Chisel's cement benches and stools work really well with the aged patina of the teak table.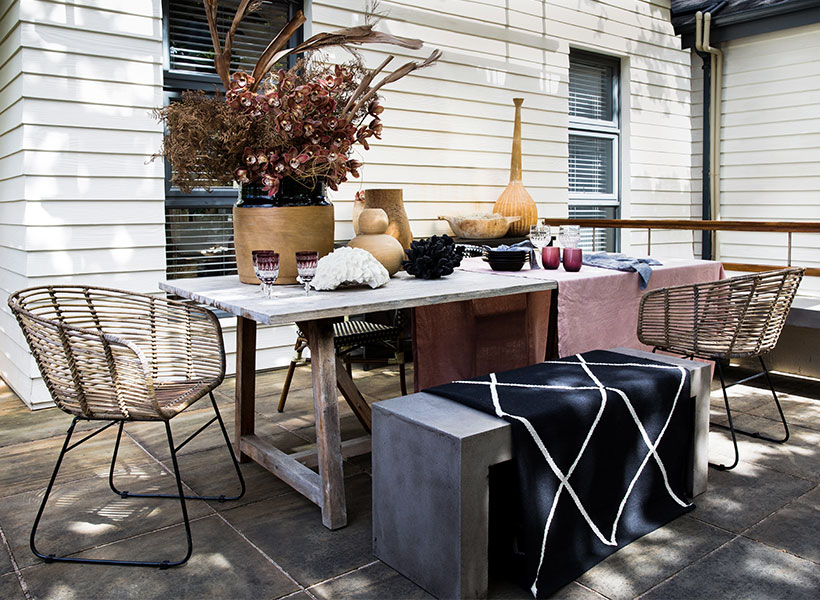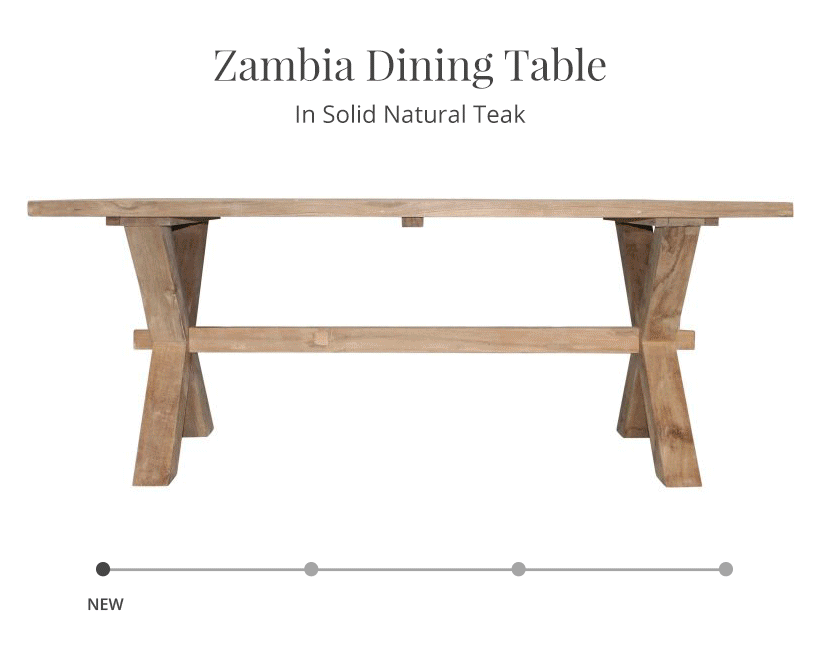 Tip 5: Create mood with ambient lighting
It's easy to create ambience in the garden or patio with a few well-placed hurricane lamps, lanterns and other candle light options like tea light holders. Block & Chisel stocks a wide selection of styles and sizes, so you will be spoilt for choice. Look out for the glass containers with led lights in store to add some festive cheer to your table.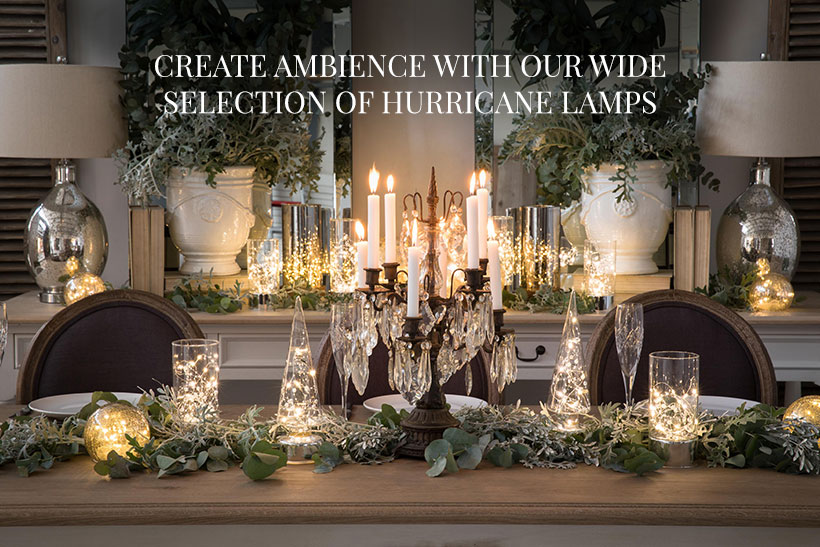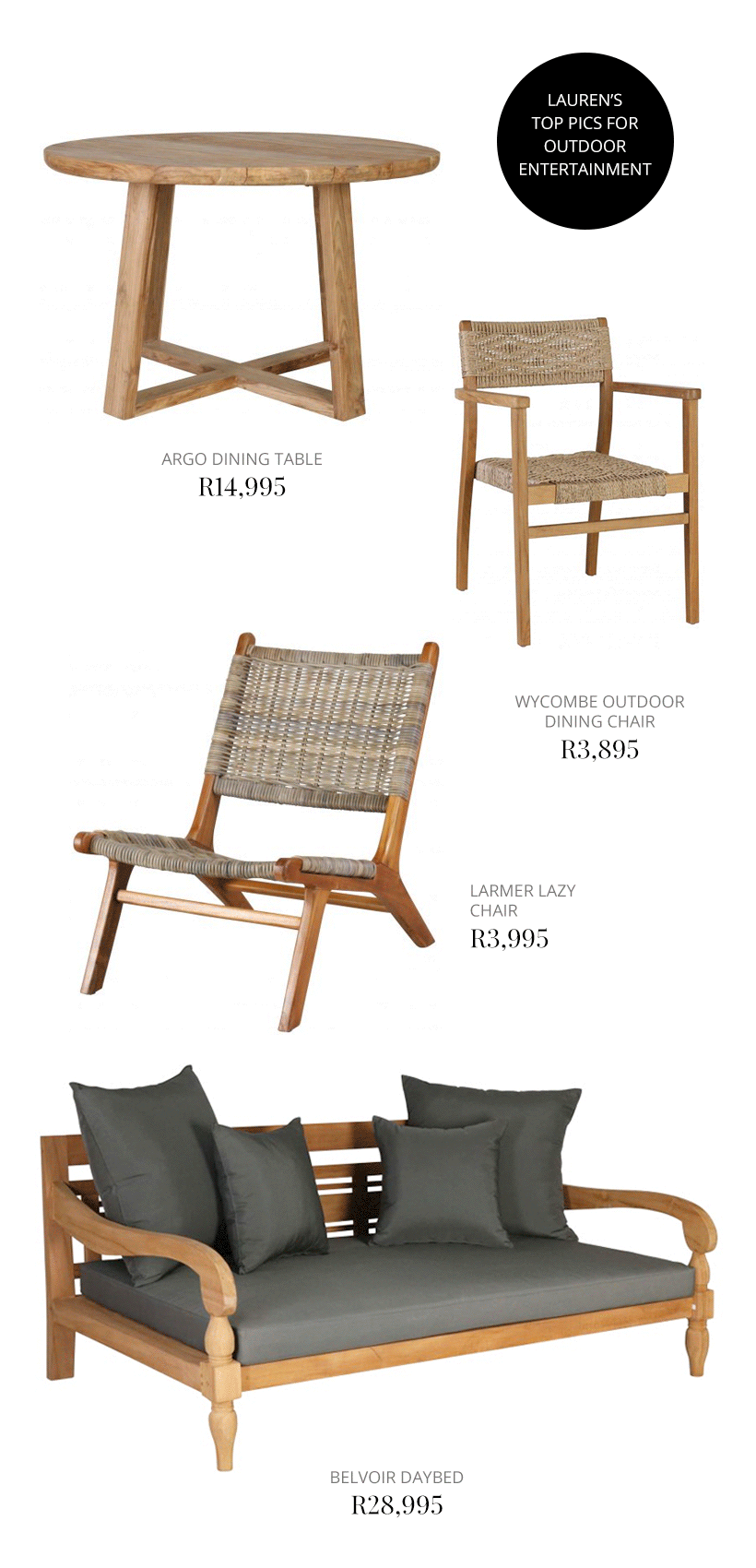 Acknowledgments 
Lauren McCreath and her assistant Leslie Hochfellner
https://www.facebook.com/laurenmccreathinteriors/ 
lauren@laurenmccreathinteriors.co.za 
082 894 1049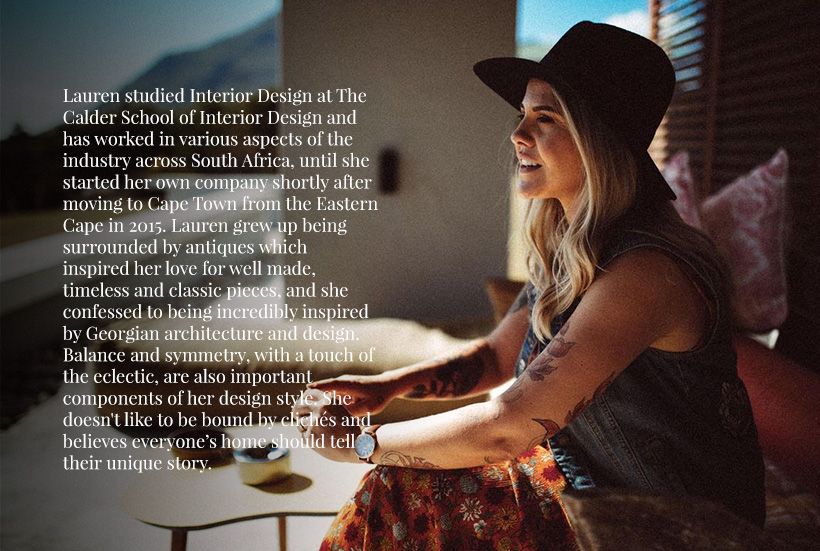 ​
ButterflyTree Flowers
Desiree Botterill 
Creative Director 
C: +27(0)79 685 6335
Instagram: @butterflytreeflowers