Live smartly with multipurpose furniture to save on space and encourage you and your family to get and stay organised.
With the hustle and bustle of modern life, it's easy for your home to become chaotic dumping ground as you race from appointment to social gathering. But living in a cluttered environment is a bad idea. It creates additional stress, overloading your senses and leaving you with less opportunity to decompress and enjoy your home. Add the challenge of living in a small space and clutter is a definite no-no if you want to enjoy your interiors and feel at peace in your own home.
Give your small space interiors a little thought, add a few smart multifunctional furniture pieces and you'll be on your way to a smarter, less stressful way of life. 
Get smart with storage in your small home
First up, household items that aren't needed day-to-day and just make a space feel cluttered should be packed out of sight. This might include bed linen, crockery, books, toy collections and other bits and bobs. 
Chests and basketware serve this purpose masterfully and when shut, they add another surface to display curated pieces you might need or want to have more readily available, offering multi-purpose you might not have thought of. Choosing these kinds of storage pieces is also a great opportunity to add texture and style to a room. We love rattan basketware and an old world style kist for great living room storage options.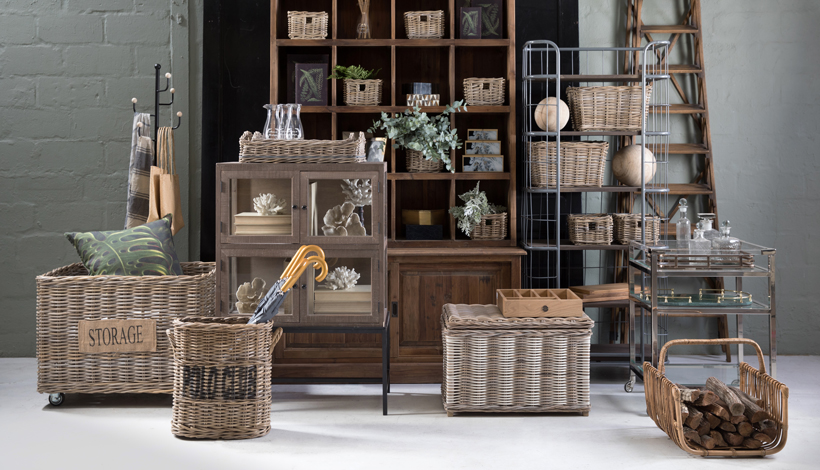 We love the Pumpkin Pouf for maximum visual impact in the living room, study or bedroom, serving as a sturdy stool with storage advantage. 
In the bedroom, bedends with plenty of storage space are a great choice. For the kids' rooms, go for the Mariah Bedend which is available in 5 different colours. It has generous storage capacity and offers the kids a new surface to place extra pillows or lay out tomorrow's outfit.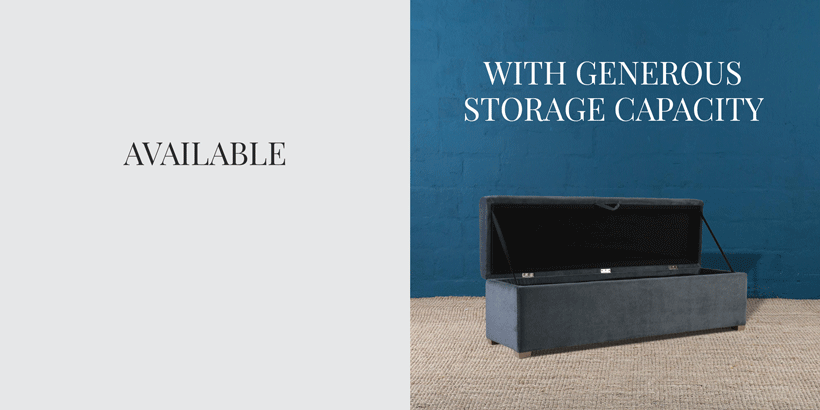 Talk to the walls
When space is at a premium in your home, it's time to turn to your walls. Utilise your wall space as extra hanging space for items that might not fit in cupboards. 
In small bathrooms, opt for multifunctional pieces such as the Brigg Mirror with Baskets to store toiletries neatly.  
Keep the household in check with a list that goes nowhere and hang important keys at the same time with the multifunctional Thomas Hardy Wall Organiser.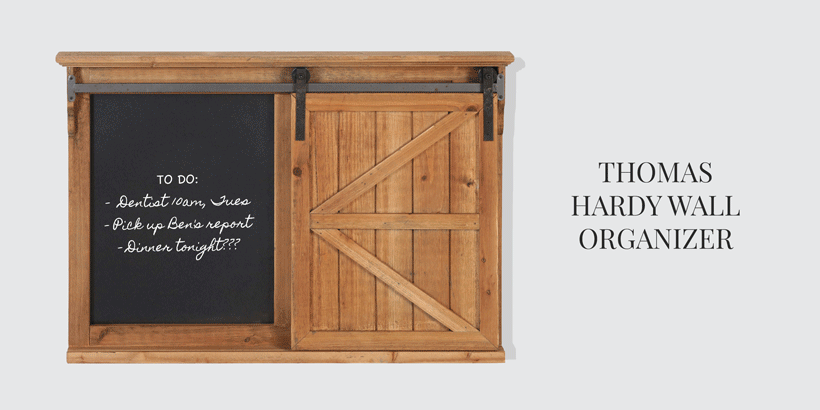 Now you see it, now you don't
There's a whole category of clever tables that enable you to create more or less surface space when and as you need: the humble nesting table. With one table tucked neatly beneath the other, they're an incredible space saving solution and a total necessity for smaller homes.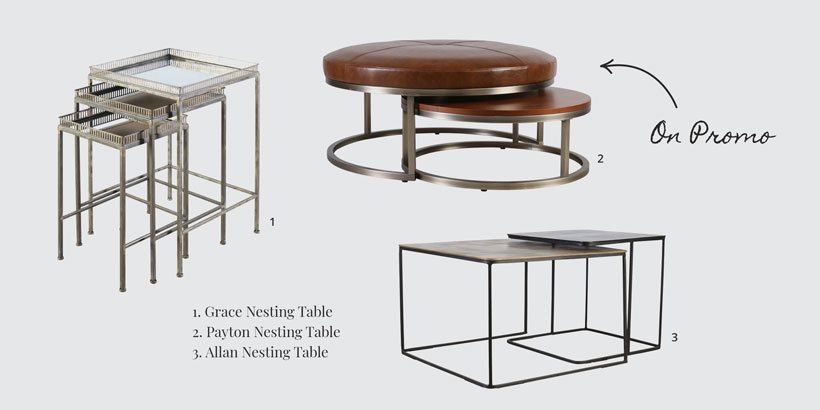 Grace Nesting Side Tables 
Tuck one beneath the other when it's just you at home or place them about the room when you have guests to accommodate smaller objects, drinks and so on. Read more
Allan Nesting Tables
If space is limited in the kitchen or dining area, the rectangular Allan Nesting Table is a great option. It extends handily when you need the extra space, but stacks away just as easily when you don't. Furthermore, its minimalist, industrial chic look and feel is rather easy on the eye! 
Payton Nesting Coffee Tables 
Coffee tables are a luxury in a small space, but they can offer a clever additional seat or easy footrest, in addition to their role as extra surface for drinks or coffee table books. Read more
Sofa, so good! 
Add additional sleeping space for visitors by opting for a stylish sofa bed in your living room, study or games area. We're particularly fond of the Nicole Sofa Bed in charcoal for its classic yet subtle look and easy functionality.
Carefully curate what's on display
In a small home, it's more important than ever to give careful thought to what is visible in a room. Once everything is nicely packed away, it's time to get playful with your decor. Open shelving, coat stands and even a clothes horse are all stylish options to banish clutter, allocate a place for everything and create beautiful flow in your small home.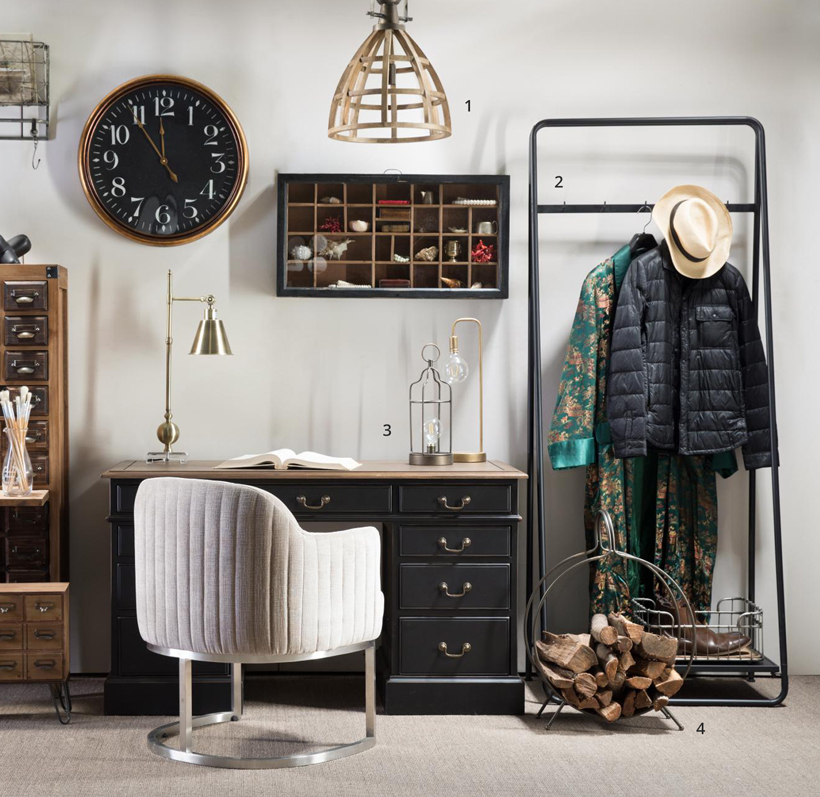 1. Mathilde Chandelier 
2. Florian Coat Stand
3. Elias Lantern and Dickinson Desk Lamp
4. Orbit Log Holder
Choose shelving that enhances the flow of your room. This might mean shelving without any backing to maintain the negative space (spaces you've purposefully chosen not to fill with decor in order to create a sense of airiness). We love the Baylor 3 tier wall shelf and the Trae Bookshelf to display curated objet, a drinks tray and several great books. 
And there you have it! Small spaces deserve style and elegance too. Give your small home a few multifunctional furniture pieces and transform your interiors.