We follow Block & Chisel's resident stylist Yolandi de Villiers as she heads in store to share her favourite pieces from Main Road, Diep River.
Visit our store on any given day and you'll see just how much Yolandi and her team do to transform our showroom into beautifully styled spaces. New stock arrives weekly and gets snapped up just as fast, so follow Yolandi's recommendations and make sure you never miss a thing.
Here are a few highlights from this week's store layout
"We want to show customers that they can be brave with their decor choices and really achieve some outstanding looks in the process."
Welcome to the jungle
Bold prints and vibrant greens, like emerald and jade, continue to be a top trend in 2017. Bring the outdoors in with tropical print scatter cushions and leaf-inspired ceramic dishes. Complete this look with gilded side tables and candle holders for an opulent final touch.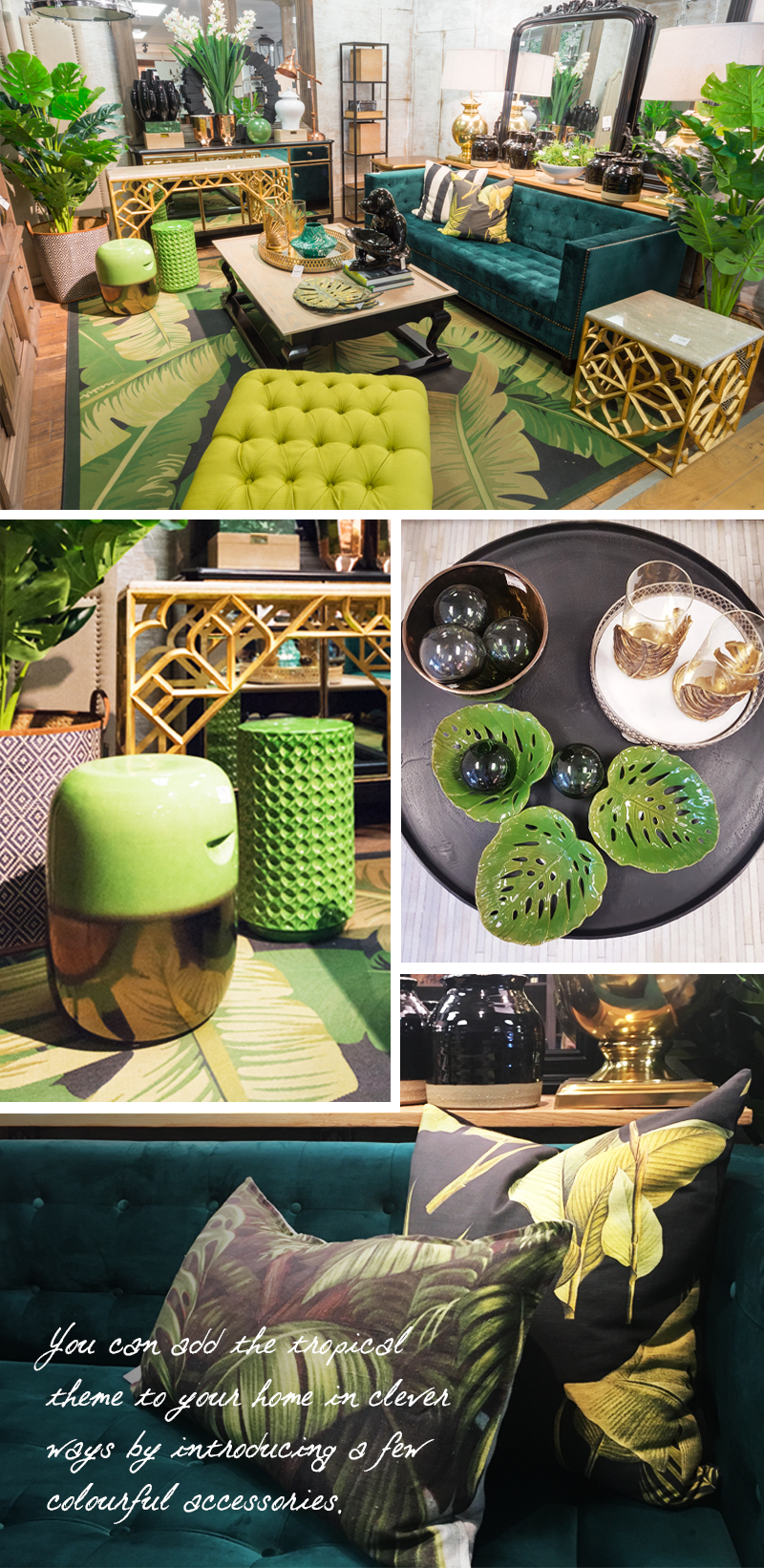 Fifty shades of autumn
"Even if the rest of your house is neutral, you can instantly transform a space by adding a brightly coloured sofa."
With autumn around the corner, colours like orange and red add a welcome warmth to your home. Yolandi recommends the luxurious Made-to-Order sofa collection as a way to incorporate this colour into your decor. Reds and oranges go beautifully with natural wood, so consider adding a few brightly coloured accessories to your bookshelf to create a personalised feature wall.
The Gia Sideboard is Yolandi's pick of the week. "I love the texture and colour of this Asian-inspired sideboard. It's such a statement piece! You don't have to worry about matching it to the rest of your room as it's a stand-alone piece that doesn't try to blend in."
Our collection of Asian-inspired distressed sideboards come in a range of colours, including the yellow Yoko sideboard and blue Miya sideboard.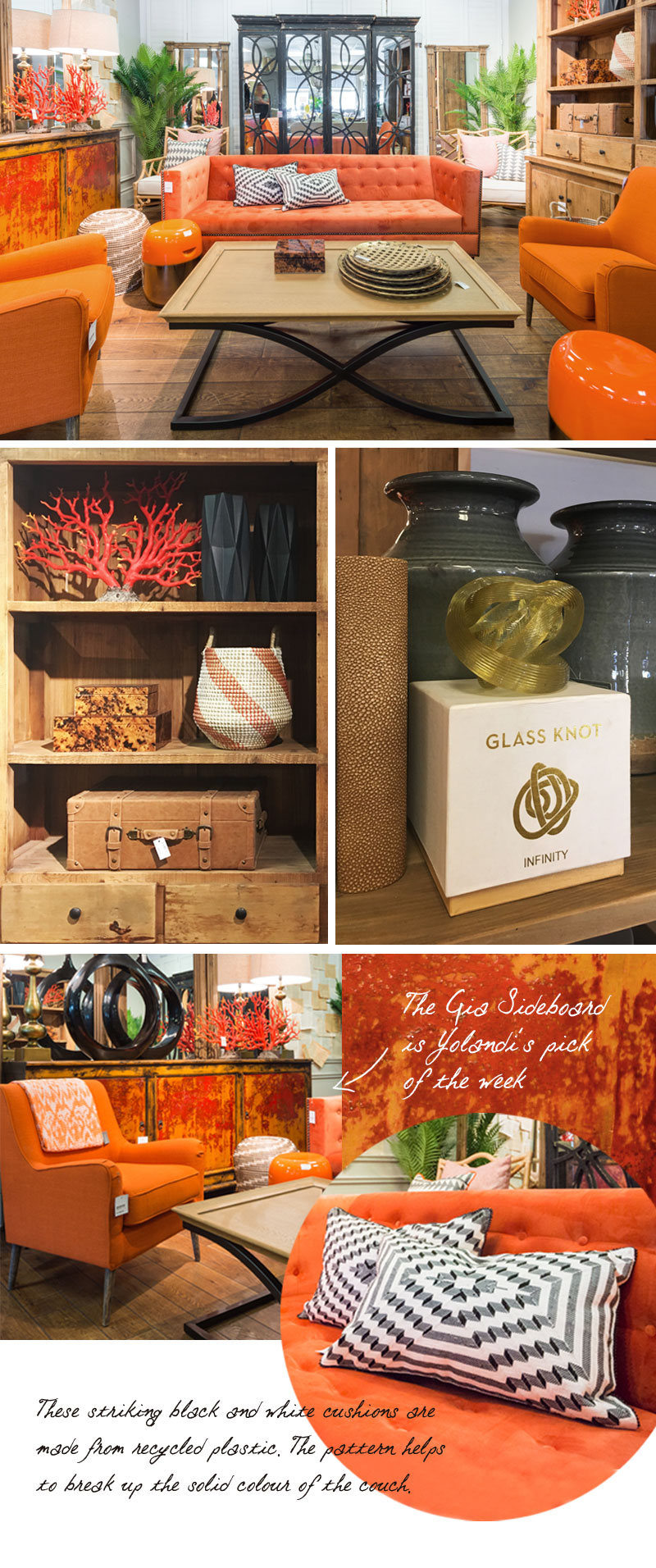 Luxe bedroom
"Bold lines and colours can still achieve a sense of calm in a bedroom," Yolandi points out.
Create a luxurious bedroom sanctuary to escape to with lavish black and gold. Choose from a wide selection of headboards and complete the look with a functional bedend to create extra storage. You can also update your current bedroom by adding a few colourful scatter cushions. All our cushions are specially made for Block & Chisel using quality fabrics and 100% down inners. We also offer a wide range of ornaments and bedside lamps that you can introduce to create a personalised space with lots of character.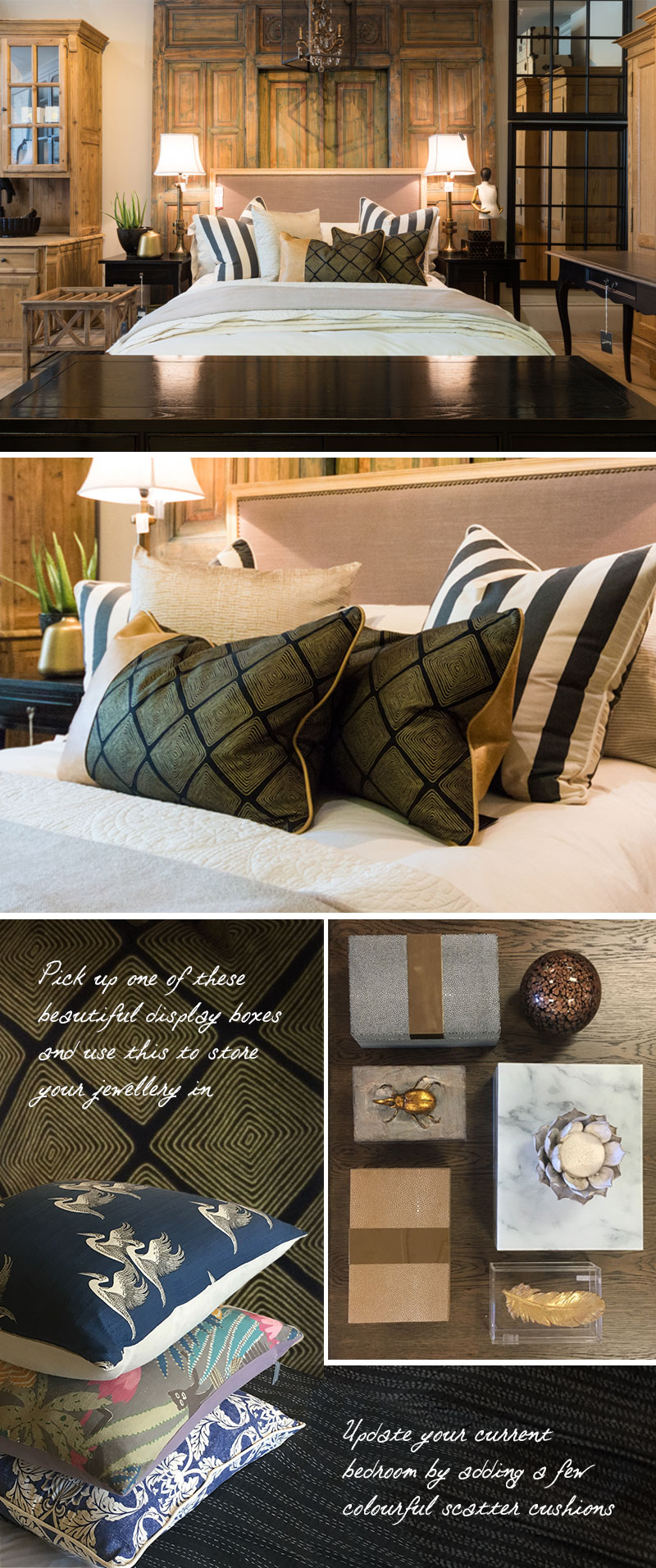 Look out for our next article featuring Yolandi's favourite picks from our Diep River store. Visit one of our stores today and be inspired.
---
About our resident stylist, Yolandi De Villiers
Yolandi has spent several years as a stylist in the retail decor industry. She loves decor that is not only beautiful but which makes people feel comfortable and at home. She believes that your decor should be a reflection of your personality. In her spare time, she draws inspiration from visits to new restaurants and coffee shops, and turns to Pinterest and Instagram when she's online. 
---