Which dining chair will make for the perfect dinner party in your home?
Every astute host knows that a good dinner party requires a foundation of comfort and openness. You need to achieve this as much through your furniture pieces as through your own skills as a host, so that both come together to create the perfect balance for a dinner to be enjoyed by all. 
"Pull up a chair. Take a taste. Come join us. Life is so endlessly delicious." 
― Ruth Reichl
The Block & Chisel library of dining chairs
Our decor experts select dining chair styles to suit a broad range of tastes, so you will find the style and comfort level that speaks to you. 
At any one time, you can expect to choose from a library of 50+ dining chair options with variations in colour and materials. These are sold out quickly and replaced with new and exciting variants throughout the year.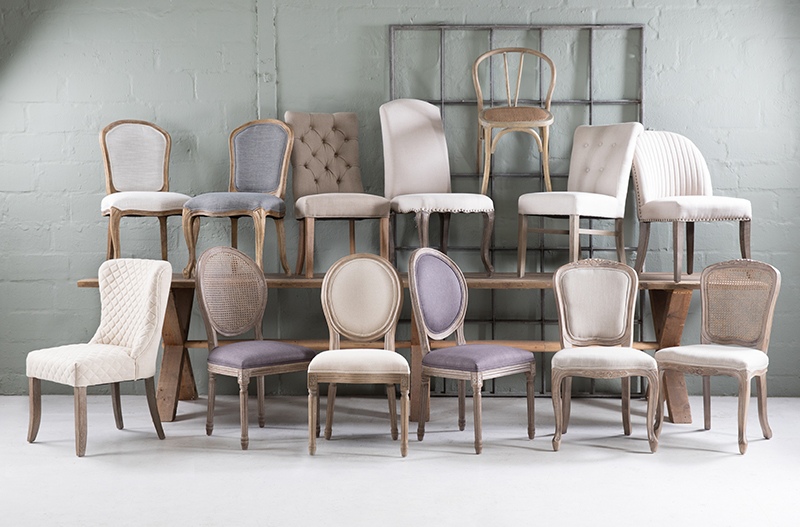 We get new and exciting variants throughout the year.
How to choose the perfect dining chairs in three easy steps
Choosing your dining chairs can be daunting - there are so many choices! Here are three steps to consider: 
1. Narrow your options by identifying what seat and back height you need.
You'll need to take your dining table height into consideration and allow for enough space between your chair seats and the table. If your table has a rail, this may require a lower chair height to ensure guests can pull their seat up to the table comfortably. 
For maximum leg room and comfort, allow for about 30cm between the seat and the underside of the table. If you're opting for a dining chair with an arm, make sure this arm can also fit underneath the table easily. There should be a 15 to 17cm gap between the top of the chair arm and the table's underside.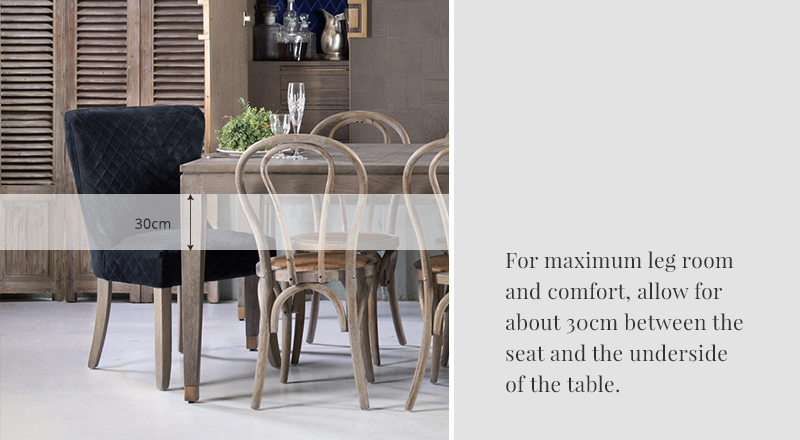 2. Give some thought to your seat comfort.
Choose seats that offer comfort proportionate to the amount of time you'll be spending on them. If you're aiming at lingering at the table long after dinner has been served, then opt for seats with room to move and good backrests. Additionally, allow for enough space between each seat (about 15cm) to avoid guests bumping elbows.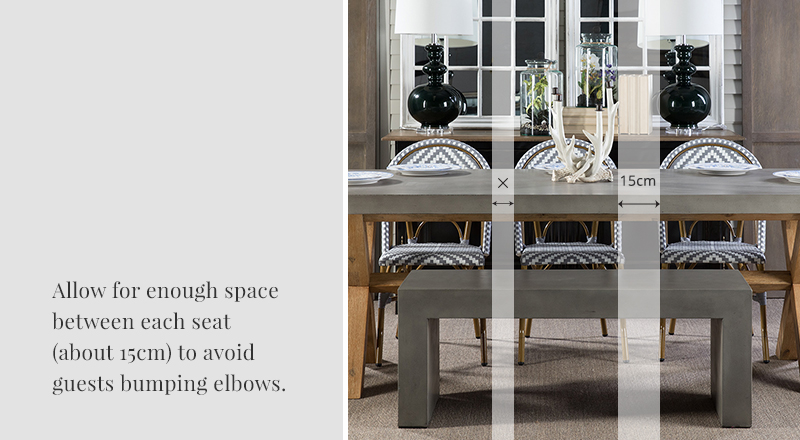 3. It's style time.
Your dining chairs needn't be an exact match to the style of the room. Opt for subtle detail that pays homage to the room's overall look and feel. Go classic with upholstered seats and curved legs, French crossbacks and tufted backrests, or opt for contemporary style with PVC moulds and leather bucket seats, bold colours and linear frames.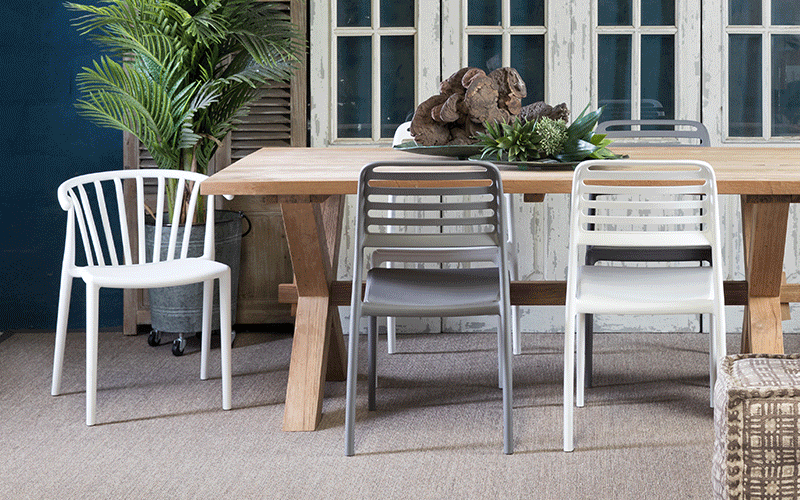 Our dining chair selections are constantly being updated, so if you see a style you love, get it to avoid disappointment.