From modern tub chairs to noble wingbacks, browse through this guide on upholstered accent chair styles and choose the one you love most.
Mix up style and throw in additional comfort with a well-chosen upholstered chair or two. You're spoilt for choice when it comes to style options from our wide selection in these easy seats. 
The Armchair 
"Who sees an armchair must perceive with the eyes a sense of mental comfort and not just a physical one." - Patricia Urquiola 
As designer and architect Patricia Urquiola so eloquently implies, the armchair must simultaneously be pleasing on the eye and comfortable to sit in. This style of chair has certainly undergone rigorous scrutiny by top designers through the ages. In fact, it was German-American architect Mies van der Rohe who conceded, "An armchair is quite a difficult object. A skyscraper is almost simpler." 
The reigning design characteristics of the armchair are simple: a medium-height backrest that offers cushioned support and substantial armrests that give stability and comfort. Of course, the chair's upholstery, its angles and its cushioning are all important factors to consider when choosing the style of armchair you like best.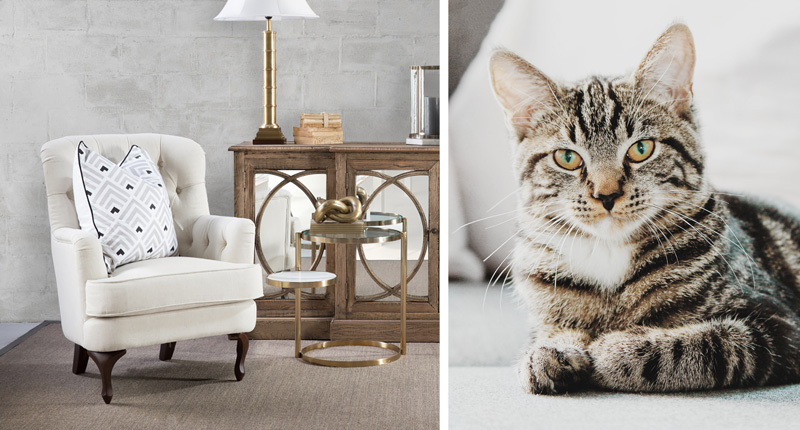 Browse Armchairs
The Tub Chair
Its name gives us some idea of the design of this chair, since the tub chair is said to emulate the shape of a bathtub. Deep seat and high armrests offer comfort and support, and rumour has it, the tub chair's design has been enjoyed as far back as the 18th Century by the likes of France's King Louis XV.
It's easy to see how the tub chair has survived through the ages: its design is simple and its comfort remains consistent. There is often no differentiation between the height of the tub chair seat back and armrests, giving it a pleasingly neat silhouette.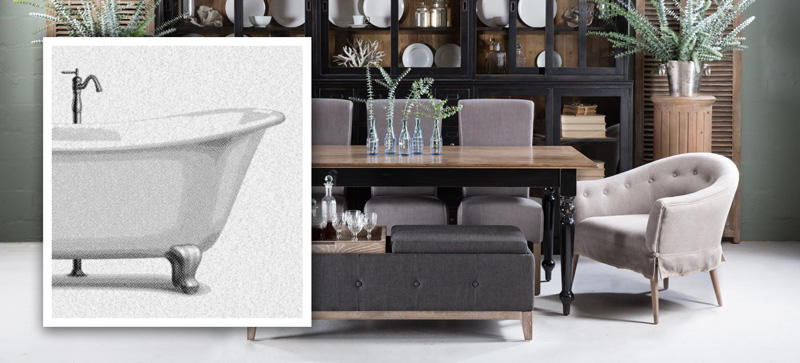 Browse Tub Chairs
The Club Chair
A modern version of the armchair, the club chair is more compact, and most often upholstered in leather. Its name is believed to be in reference to the gentlemen's clubs of 18th and 19th Century Europe that would have had a selection of seating arrangements using chairs in this style.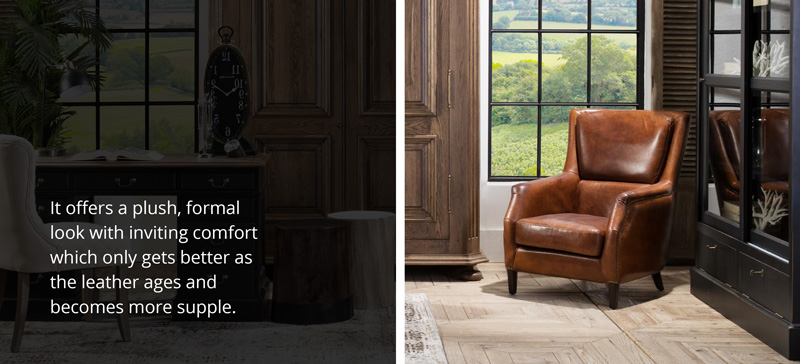 Browse Club Chairs
The Occasional Chair
This category has a somewhat more flexible definition. It's meant to be a chair you can easily move from one spot to another to suit the occasion. It helpfully plays the role as extra seat, but it is also a style statement in your interiors. So, have fun when choosing your occasional chairs. Be adventurous and try something different.

Browse Occasional Chairs
The Wingback Chair
The noble wingback is a recognisable classic style, but its origins are really rooted in the practical. It is believed that the high backrest and winged sides were designed to capture the warmth from the fireplace, while stopping any chilly draughts that might come in from behind.
Today, the wingback is associated with the luxurious and can often be found in various settings: as beautiful statement pieces at either end of a dining table, in the bedroom to create the ideal reading nook, or even as a grand desk chair. Of course, the wingback chair is always perfectly placed at the fireside, or as a duo in your living room. 

Browse Wingback Chairs
The Bergere Chair
A wooden frame around the backrest, cushioned armrests and cabriole legs are all characteristic of this chair's French origins. Pronounced "ber-jair", the chair's name means "shepherdess". This style offers a classic touch, yet is surprisingly comfortable, making it a lovely addition in a home that references traditional design.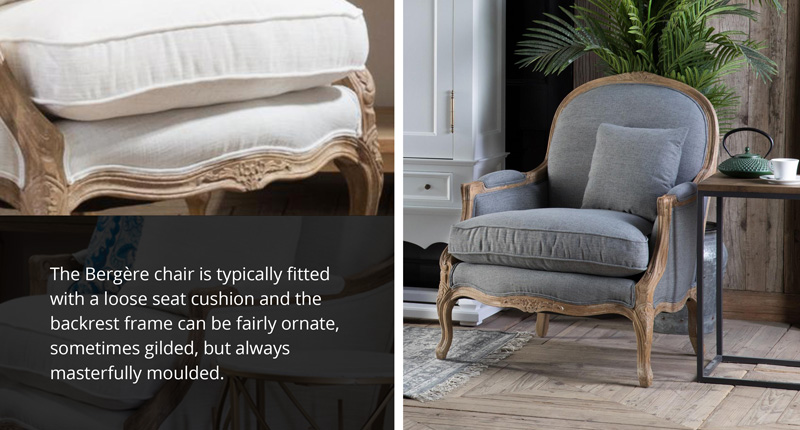 Browse Bergere Chairs
Give the seating in your home careful consideration as your choices will influence the overall interior style. Functionality and comfort are no less important during your decision-making, so give some thought to how you use each space in your home and what seats would work best.