Step through the doors of our Chelsea Village store in Wynberg and find yourself transported to a bygone era.
Dating back to the mid-19th Century, the building itself is a heritage site recognised by the South African Heritage Resources Agency (SAHRA).
A photograph of our Chelsea Village store taken during the 1950s when it served as a corner cafe. It was to become the first of the Block & Chisel retail stores in the late 1980s. Read more about the historic Chelsea Village. 
Each room in this unique property is styled thoughtfully by our expert stylist team, who are mindful of the space and its historical limitations. Its old world feel makes it the ideal backdrop for our Limited Edition collection. And, this unique multi-roomed space also offers visitors a very practical view of how Block & Chisel pieces might work in their own homes.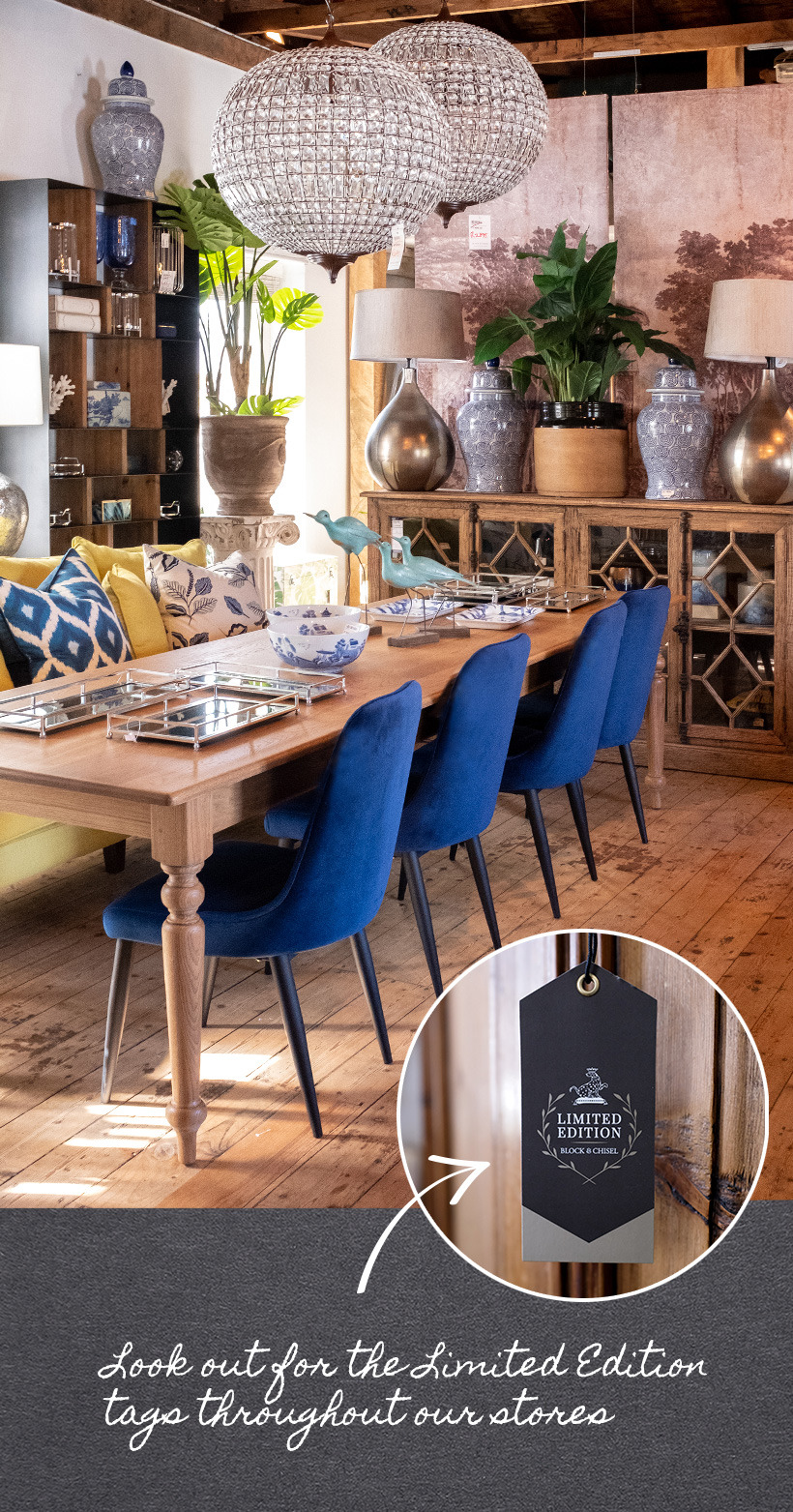 What is the Limited Edition Collection?
Each piece is personally curated by our founder, Lynn McAdam, making them collectors pieces of distinction.
Selected with the expert eye that comes with more than 30 years experience in the business of furniture, Limited Edition pieces might be reclaimed, lovingly restored or simply recognised for their unique features and potential to turn a space into an outstanding interior setting. 
Our knowledge of traditional quality and craftsmanship makes this selection process one of meticulous attention and it's why the Limited Edition collection contains pieces of distinction. Read more about the Limited Edition Collection.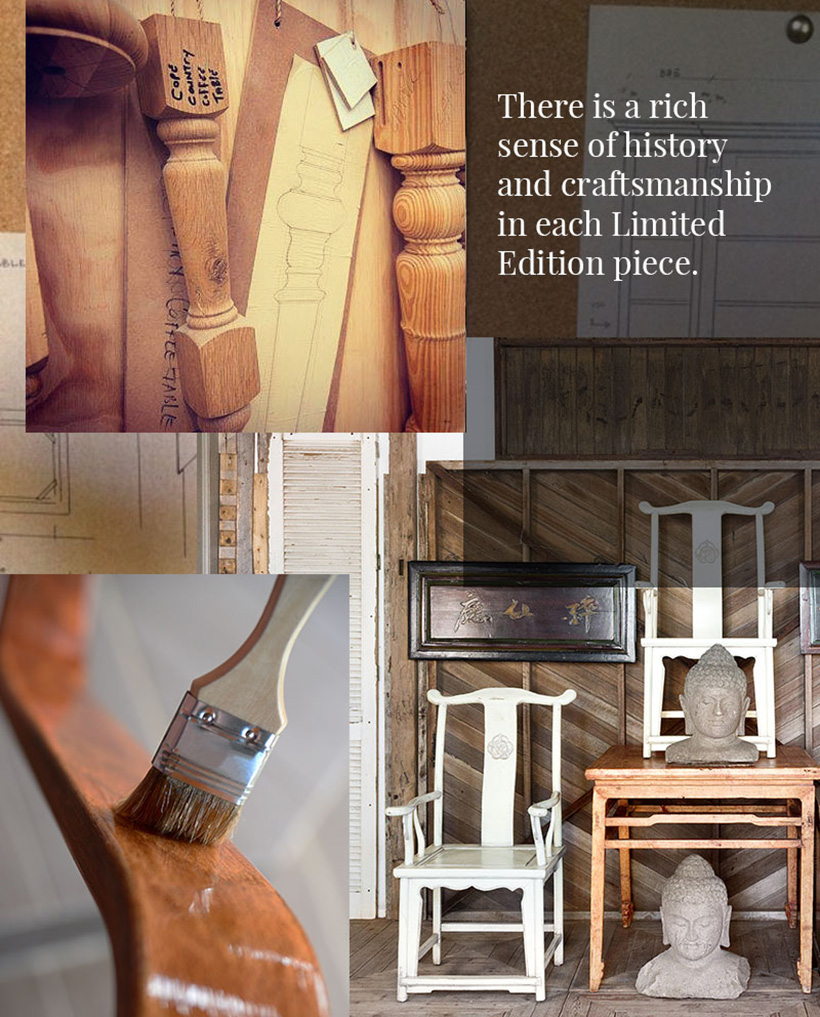 Limited Edition collection pieces we love
The Voltaire Bureau Desk
A beautifully restored antique bureau desk, its filigree detailing buffed to a brilliant shine and its paneling gently sanded down and re-oiled, sits proudly beside a sash window on the second floor. Open it up to discover handy pigeon holes, a central drawer and of course, plenty of surface area on which to work.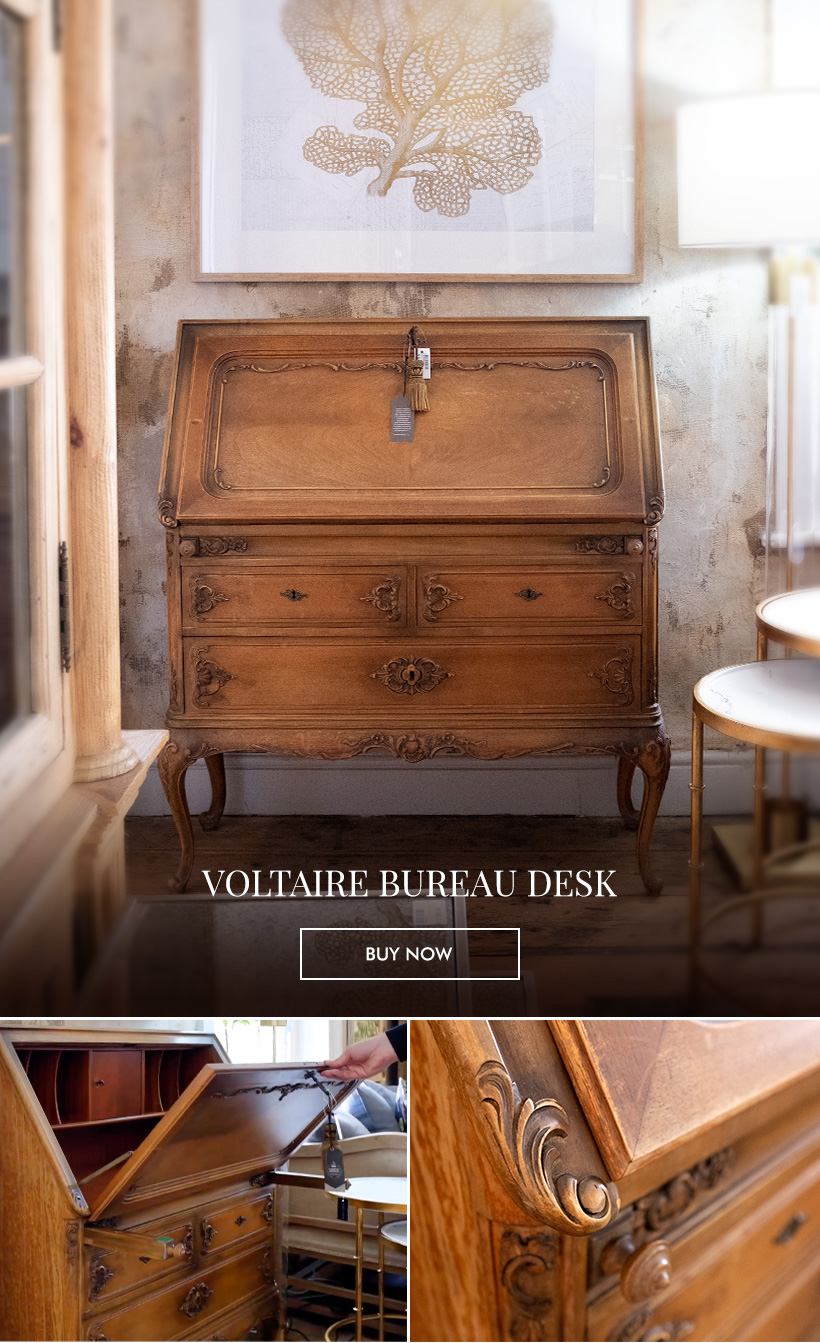 The Perrault 4-Poster Bed
In the same room, a beautiful bedroom setting is laid out with a gloriously updated wooden four-poster bed in a soft silver finish. The panel and poster detailing is undeniably classic, yet the expert restoration by our small workshop team has brought the piece firmly into the 21st Century.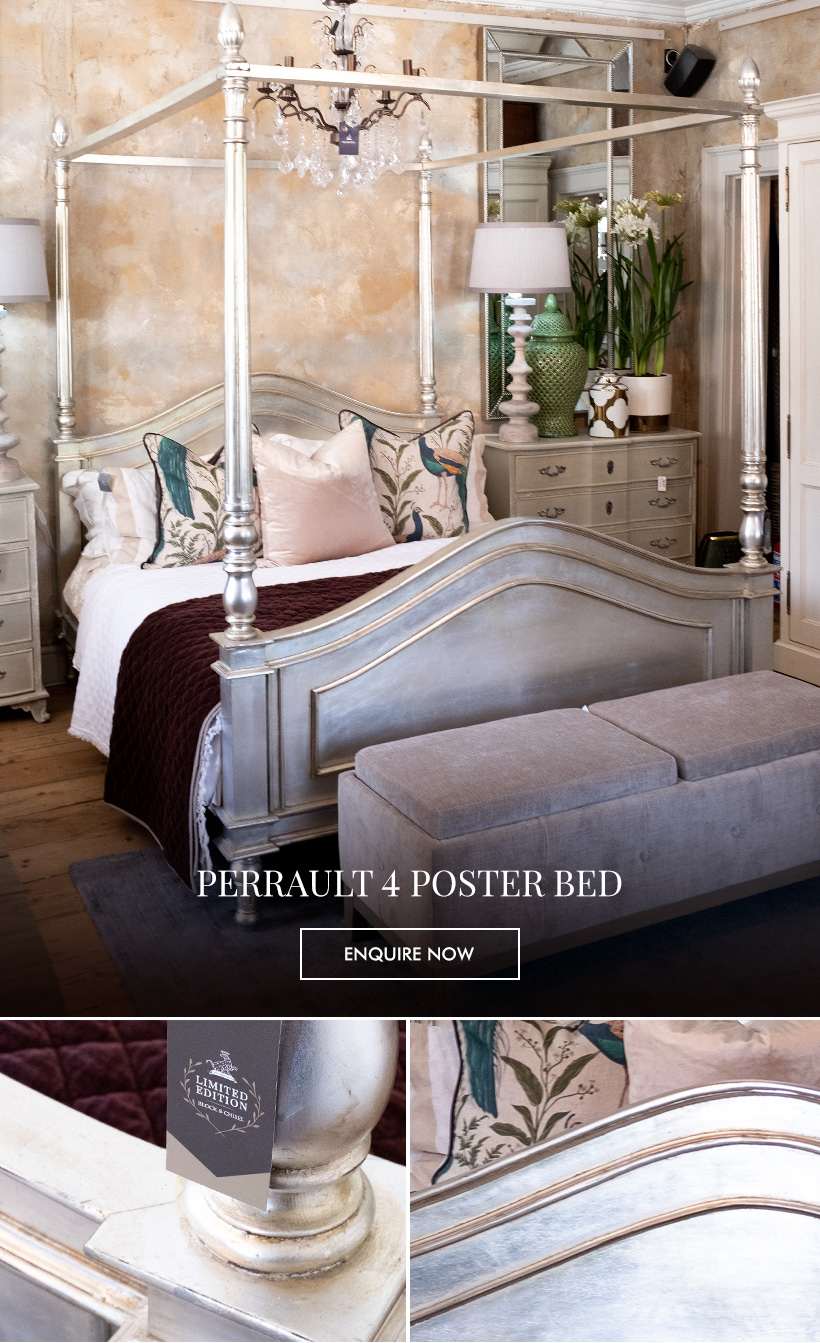 The Edwina Bergere Chair
Downstairs an antique bergere chair beckons you to take a seat. Every detail has been carefully revised, from its frame and upholstery, right through to the armrest padding to ensure that the style and comfort for which the bergere is known is completely restored. The result is a chair that commands attention. It's the occasional seat of any interior buff's dreams.
Limited Edition pieces range from vases and urns that show off well-worn detailing to add textural interest to a setting, to carefully restored solid wood cupboards, sideboards, chests and cabinets. Visit the treasure trove that is our Chelsea Village store and look out for the Limited Edition tags throughout the store.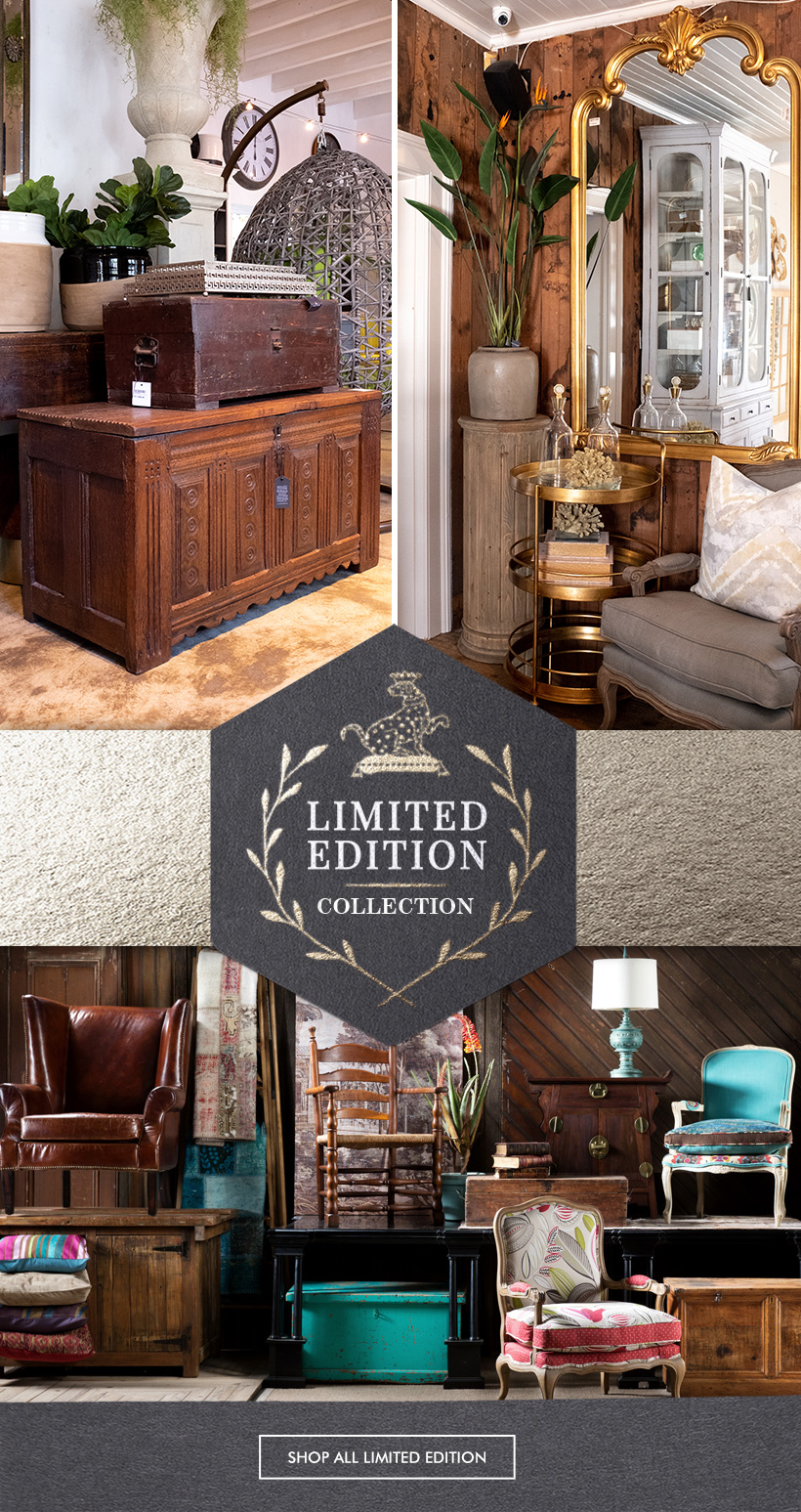 A rich history
From its humble beginnings as a little supply station for British settlers in the early 1800s, Wynberg's Chelsea Village continues to serve as a vital cultural space almost 200 years on. Read more about this culturally rich village in our post: Come home to our Chelsea Village store. 
A visit to our Chelsea Village store always deserves time, so make a day of it. Once you've had your fill of decor inspiration, we suggest you pop down to Wolfe Street to take your pick of lovely cafes, pubs and restaurants in which to refuel and perhaps even reflect on that decor inspiration.
Selected Limited Edition Pieces