A little opulence can go a long way during these trying times and since we're all spending quite a bit more time at home, here's the ideal opportunity to turn your home into something luxuriously you!
You needn't do an interior overhaul to make an impact. A few well-chosen pieces can help make your home a haven of grandeur. Here's a list of key tips and tricks to help make your home look and feel luxurious.
1. Roll out the luxe rug
Give your floor the love it deserves for an impressive result. Our extensive selection of handmade rugs from Linie Design offers ultimate luxury. You can expect handmade rugs showcasing elegant patterns and colours all made from excellent materials. Linie Design Rugs are designed by acknowledged Scandinavian designers and handmade by Indian master artisans.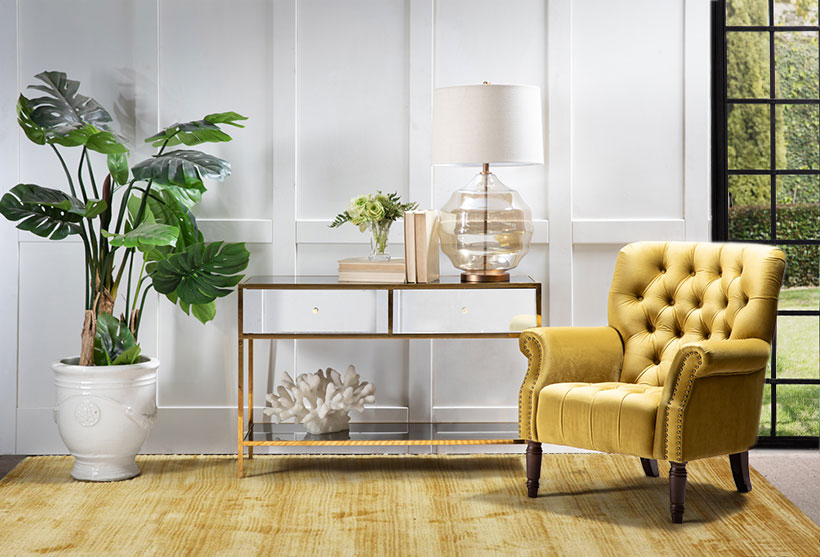 The Roja rug with its velvety texture and subtle lustre will bring luxury, warmth and texture to your home.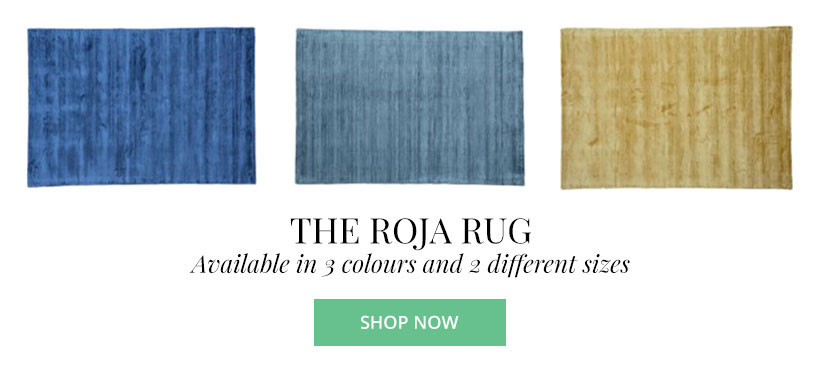 2. Mirror-clad furniture
When the mirror leaves the wall to become quite literally part of the furniture, you're sure to up the luxury quotient exponentially. Bring plush grandiosity and a sense of brightness and light into your home with the Europa 2 Drawer Console or Europa 3 Drawer Chest.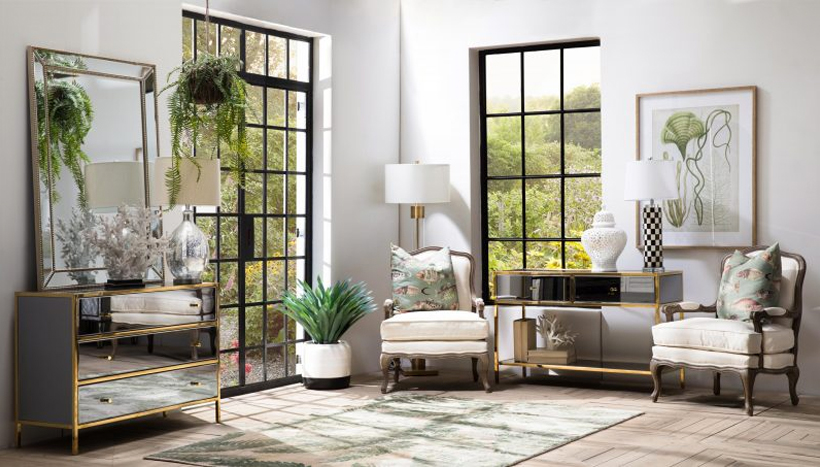 3. Entrance hall essentials
Your hallway or entrance area should set the decor tone. The Curtis Mud Room Coat Stand is a tried, tested and indeed, classic way to keep your entrance area neat, tidy and stylish. Better still, this piece is designed and made in our Cape Town workshop.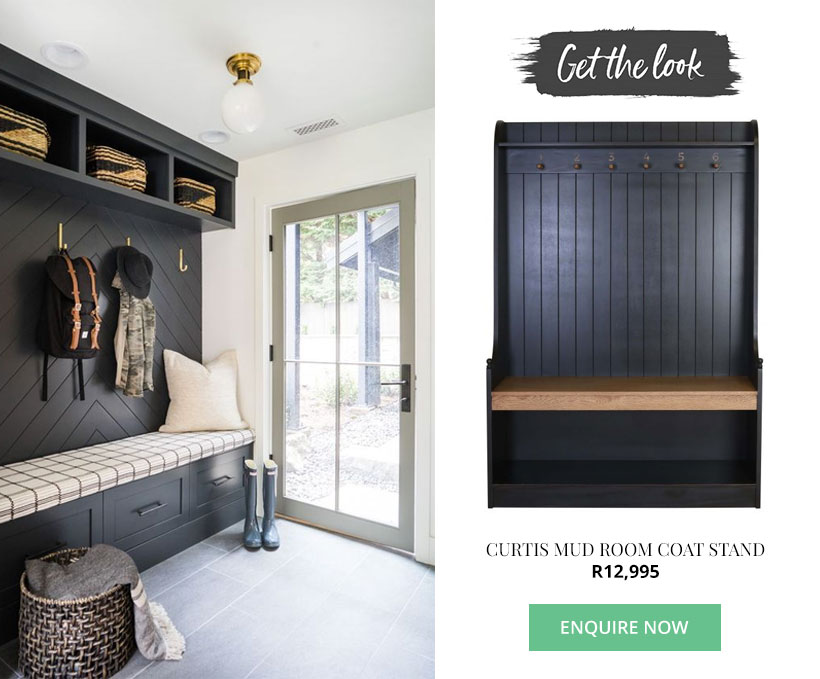 Styled shot from Pinterest
If space is limited, go with the Godfrey Coat Hanger near the front door. Its silver finish and elaborate base offer just the right details to set a luxurious tone. 
4. Symmetrical style 
It's in our DNA to be drawn to symmetrical things  and no wonder, as symmetry suggests balance and harmony. Get it just right and it will also have an air of richness. Dedicate one area in each room to a balanced vignette. Start with a central piece, such as a sideboard or sofa, and build on that by adding mirrors, artwork or shelving behind it. Next, add a chair or side tables on either side, and finally, a few decor objet. Try to vary objects just a little on either side to add interest, variety and texture.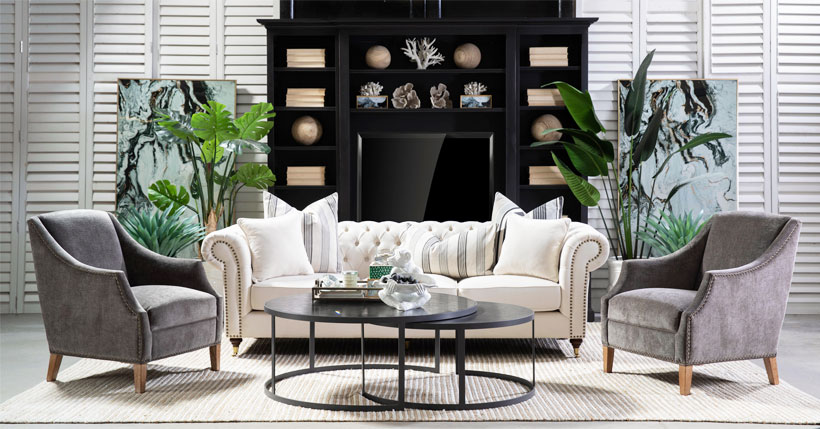 5. Statement seating 
The armchair makes an important decor statement. Select a seat that picks up on the dominant accents of the room, be it in texture, colour or style for maximum impact.
With fanback silhouette and diamond tufting, the Chelsea Armchair is an elegant choice. Available in soft pink or blue velveteen upholstery, this piece harmonises with gold accents such as the Celina trolley and Phyllis standing lamp.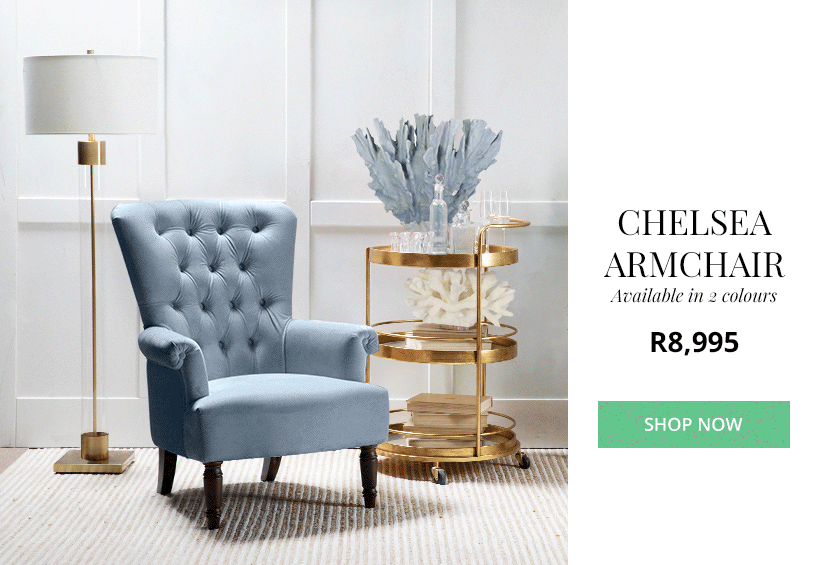 6. Hotel-style beds 
There's truly nothing more luxurious than a bedroom with all the trimmings. Upholstered headboard, swanky side tables, bedend and plush rug are details that contribute to the sleep sanctuary of dreams. Your headboard is the frame that gives your bed its finished look, and that's why it's a key piece to creating luxurious bedroom style.
Tufted headboards offer a reference to classic, tasteful interiors. We love the classic sophistication that button-tufting detail in linen fabric brings to a look.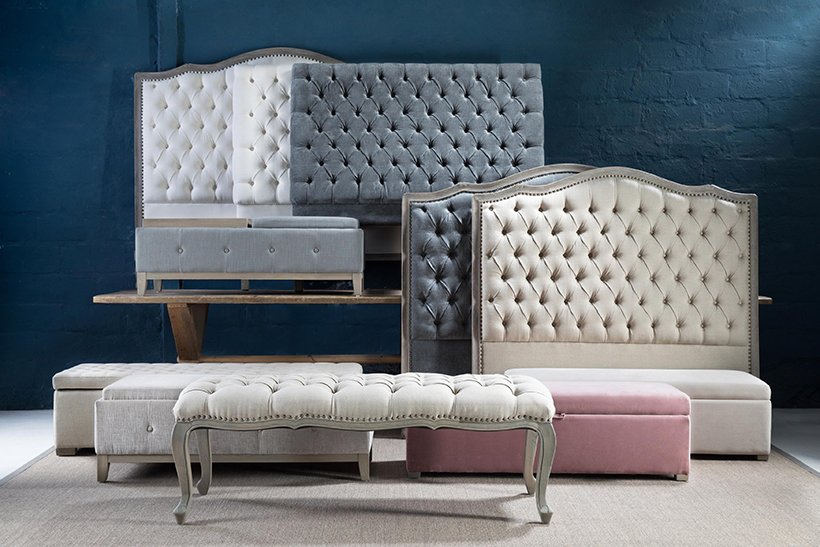 7. A touch of velvet
Every home serious about its decor should have at least one or two pieces clad in velvet. When used wisely, this sumptuous fabric adds undeniable style. From the classic silhouette of the Chesterfield Sofa to the generous cushioning of the Marlena Sofa, you're spoilt for choice when it comes to our Velvet Seating Collection.
Strong colour statements such as deep Burgundy red, Cedar gold and Charcoal velvet seats will add commanding style, while more muted tones such as champagne or silver, add more subtle references. 
8. The ginger jars 
Once recognised as the container for carrying precious spices from Asia to Europe, the ginger jar has become an important "objet de luxe". Our latest variations are a riff on chinoiserie using bright colours and playful motifs to bring them firmly into the 21st Century. Add them to a sideboard or console to create an impressive vignette, repurpose them as a vase, or as a centerpiece for dramatic effect. Visit our stores to browse our wide selection of ginger jars used in a variety of settings.
Find a Block & Chisel store near you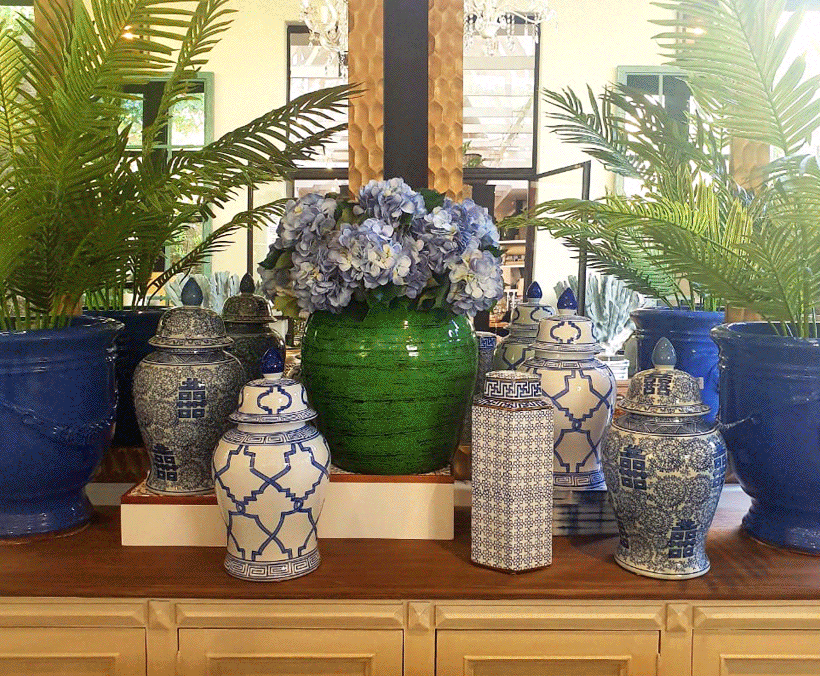 9. Decorative sculptures 
Your decor objet are a great opportunity to create small yet splendorous stories. From playful to artistic, organic to abstract, you're bound to find a few pieces to suit your style from our wide and ever-changing selection. Our current favourites include the monkey bowl and bird sculpture, the Giacometti-inspired Friends on a Stand and resin-poured coral sculptures.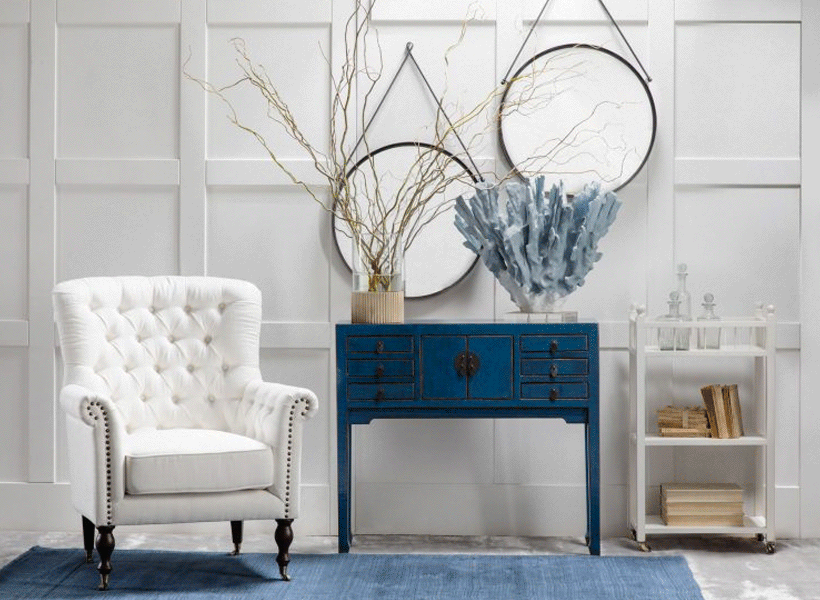 10. Styled bookshelves  
An eye-catching bookshelf or display cabinet is a great way to show off a little magnificence. Director and stylist extraordinaire, Sue McCoubrey, offers a few key suggestions on how to style your formal and informal bookshelves masterfully: 
11. Elegant bar area 
Nothing says luxury quite like a tastefully styled bar area. Whether that results in a drinks trolley laiden with your favourite tipple, glasses and decor, a drinks tray to feature atop a sideboard or table, or, the ultimate drinks cabinet, there's every reason to elevate that age-old evening ritual. 
12. The Midas touch
Gold is elegant, warm and timeless, making it a perfect accent to have in your home all year round. Embrace the opulent look with the Karissa Sofa in dramatic Cedar gold or go with subtle touches of gold using pieces with gold finishes such as the Kirsty Console and Lunar Shelf.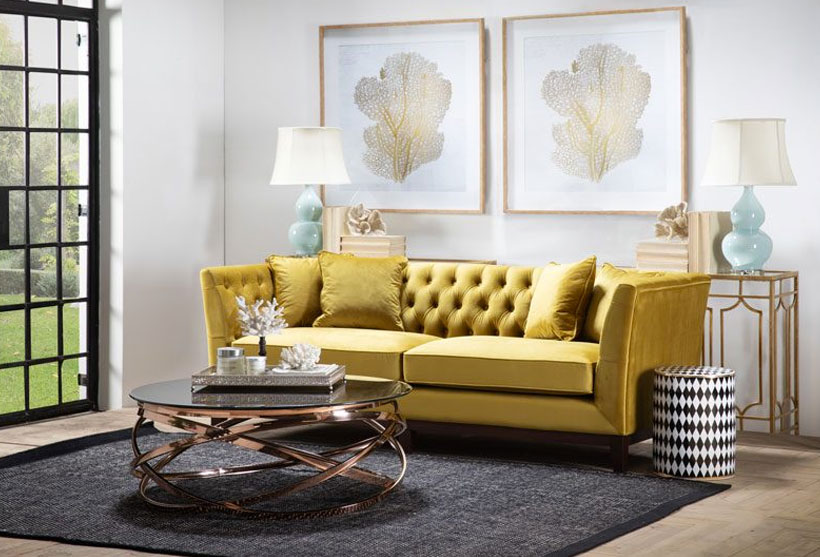 13. The bathroom vanity 
Give your bathroom a stylish focal point with a beautiful storage and sink area in classic styling. The vanity is a great way to bring strong style direction into the room. We love the Dorset Vanity with Mirror for its classic style references.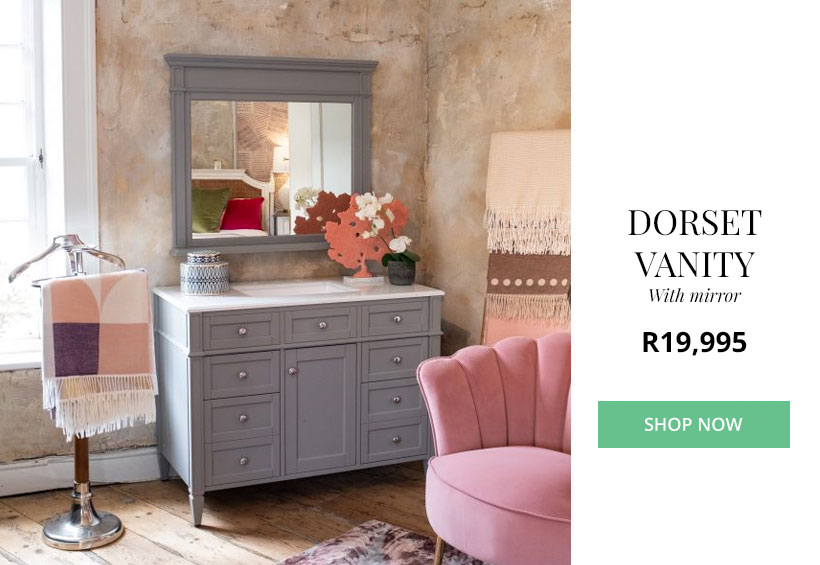 14. Repeat style
Add three or more lights or mirrors in a row to create striking decor features.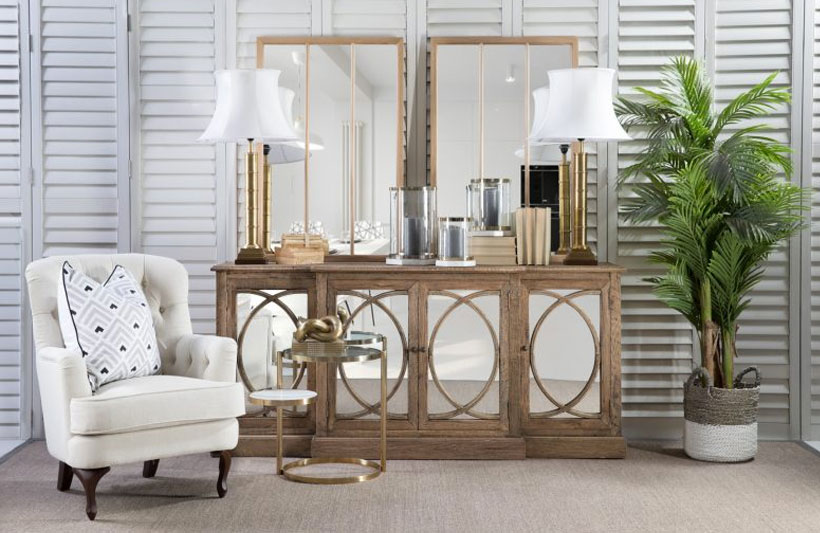 Like what you see? Be sure to visit our stores in Joburg and Cape Town to fill up on inspiration. Our knowledgeable decor consultants are on hand to assist you with finding the luxury decor solution that suits you best.